These Scientists Are Here To Remind You Their Climate Report Is Not About Politics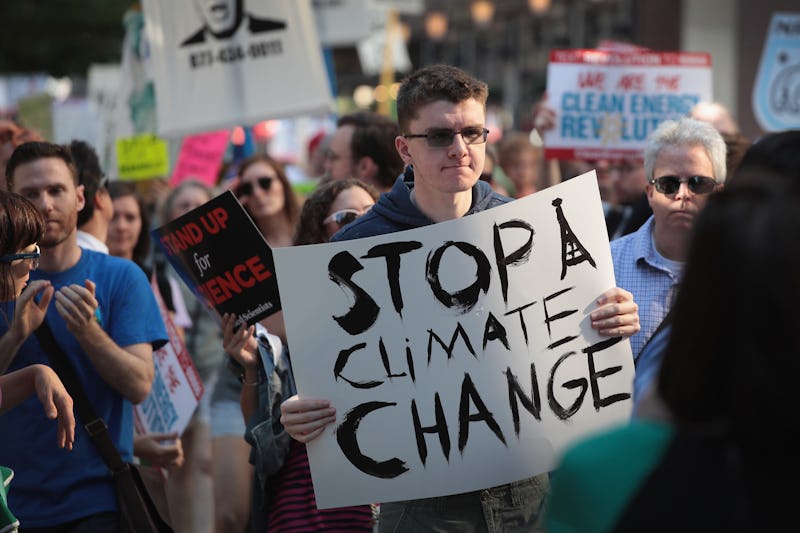 Scott Olson/Getty Images News/Getty Images
The president has long expressed skepticism — and outright disbelief — in climate change. And in the wake of yet another alarming report on climate change last week, the White House joined him, claiming the results are not data-driven or based in fact. Now, National Climate Assessment authors are warning against the Trump administration's politicization of the issue.
The report, which was a combined effort by 13 agencies within the federal government itself, announced that climate change poses an immediate and severe threat to the health of the American people and the economy. It urges swift and aggressive action to mitigate the harm caused by increasingly damaging natural disasters.
Negating the results entirely during a press conference on Tuesday, press secretary Sarah Huckabee Sanders called the report "not based on facts," and claimed that climate change analysis is "never exact." But this is exactly what the authors of report warn against.
"The easiest way to deflect science is to put doubt on the data that it is based on," Paul Chinowsky, a University of Colorado engineering professor who worked on the study, told ABC. "I can tell you this was one of the most thorough data justification exercises that I've ever been involved in, in all the years I've been working on this, and it really comes down to a question of, are you going to believe the international community and scientists and engineers involved in putting the data together, or do you just want to dismiss it?"
Sanders also characterized the report as an "extreme" interpretation of current and impending climate issues, which scientists say will cost the nation billions of dollars in property damage, lowered economic productivity, and labor shortages annually.
"It's really quite conservative if you ask me," Brenda Ekwurzel, a climate scientist who co-authored the report told ABC. She pointed to the billions of dollars already spent on damages caused by recent unprecedented hurricanes and wildfires that have incurred months — if not years — of rebuilding costs. These are "clear signs of a warming world," she said.
Politicizing the issue won't help, the authors argue. With climate change symptoms worsening, and a divided Congress about to begin session, they say partisan quarrels over whether the problem is even real or not will waste precious time. On top of that, to implement the aggressive solutions the report recommends, the country will need federal guidance. Local and state governments are "limited in what they can do and only have so much money and need federal help," Chinowsky told ABC.
However, the chances of getting support for that kind of comprehensive policy from the Trump administration seems increasingly unlikely. "As to whether or not [climate change is] man-made and whether or not the effects that you're talking about are there, I don't see it," Trump told Washington Post reporters during an interview this week.
In the meantime, global warming is waiting for no one. "The atmosphere is non-partisan," Ekwurzel added, in her interview with ABC. "It doesn't matter whatever political persuasion. This truly is a nonpartisan issue and we have to come together and do what's best for keeping people safe in the U.S. and having ways of powering our economy."