These Photos Of The National School Walkout Will Make You See How Powerful Students Can Be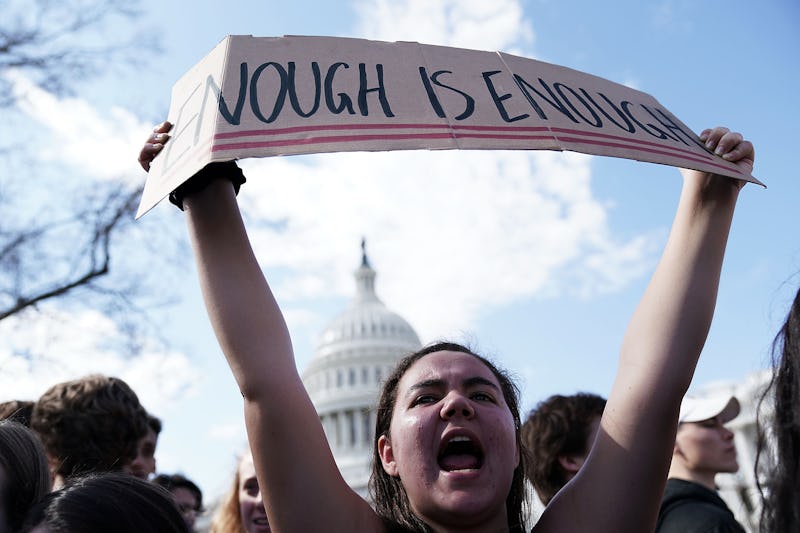 Alex Wong/Getty Images News/Getty Images
On Wednesday, exactly one month after a gunman killed 17 people at Marjory Stoneman Douglas High School in Parkland, Florida, students across the country walked out of class to protest gun violence. Photos of the National School Walkout illustrated just how widespread these walkouts were; according to EMPOWER, the Women's March initiative behind the walkout, more than 2,850 primarily student-led actions were scheduled to take place on Wednesday morning. Most walkouts lasted 17 minutes — a minute for every person killed in Parkland.
The walkouts had two main purposes: to honor people who have been killed by gun violence, and to put pressure on lawmakers to pass gun reform legislation. Students and teachers at elementary, middle, and high schools — as well as some colleges — participated in the walkouts. Some of these schools and school districts encouraged their students to participate, while others threatened disciplinary action on the basis of unexcused absences.
It's clear, however, that the potential threat of disciplinary action did not dissuade students from protesting gun violence. Moreover, many of the walkouts were personalized. In Colorado, for example, Columbine High School students had 30 seconds of silence during their walkout — 17 seconds for the Parkland shooting victims and 13 for each of the victims of the Columbine shooting in 1999. Students in Newtown, Connecticut — where 26 people were killed at Sandy Hook Elementary School in 2012 — also held walkouts.
According to NBC News, roughly 185,000 people in all 50 states were expected to participate in the National School Walkout, but final attendance numbers are not yet available. Alexandra Anglade, a junior at Marjory Stoneman Douglas, told NBC News that she was moved to see just how extensive the walkout's reach was.
"It means a lot to me to know people are willing to help out," Anglade said. "It's amazing to see schools in California and New York stand with us and do the same thing."
And from coast to coast — including at the White House — participants at many of the walkouts wore orange to symbolize the fight against gun violence. In 2013, when 15-year-old Hadiya Pendleton was killed in Chicago, her family started an anti-gun violence organization called "Wear Orange," because hunters typically wear orange to avoid being shot by other hunters.
On the Women's March website's Youth Empower page, organizers suggested that wearing orange was a good way to support the National School Walkout, even if people weren't in a position to walk out of classes themselves. The Women's March site also encouraged people to stage workplace walkouts if they were not affiliated with schools.
Just one day before the walkouts, global advocacy group Avaaz arranged thousands of pairs of shoes on the lawn on the Capitol to remind Congressional officials of the very real impact of gun violence. The arrangement, which featured 7,000 pairs of shoes, was meant to represent every child who had died from a gunshot wound in the U.S. since the 2012 Sandy Hook shooting. It was a powerful display that also emphasized precisely what students have been protesting.
The National School Walkout followed a month of student activism against gun violence, largely spurred by the Parkland shooting, but it was also the first of many student-led actions. On March 24, we'll see Parkland shooting survivors and their allies head to Washington, D.C., for the March For Our Lives. And since the initial march was organized, more than 700 sister marches have been organized around the world and are slated to take place on the same day. Then, on April 20 — 19 years after the Columbine High School shooting — teachers and students plan to stage more all-day walkouts as part of a day of action against gun violence.
As all of the photos from Wednesday's walkouts demonstrate, students are refusing to let the country once again forget the impact of gun violence without implementing tangible policies to prevent it. Student activism has already had an impact on Florida's gun laws, and with marches against gun violence cropping up around the world, it has quickly become apparent that it won't be easy for lawmakers to sweep this issue under the rug again.