"Nevertheless, She Persisted" Memes To Share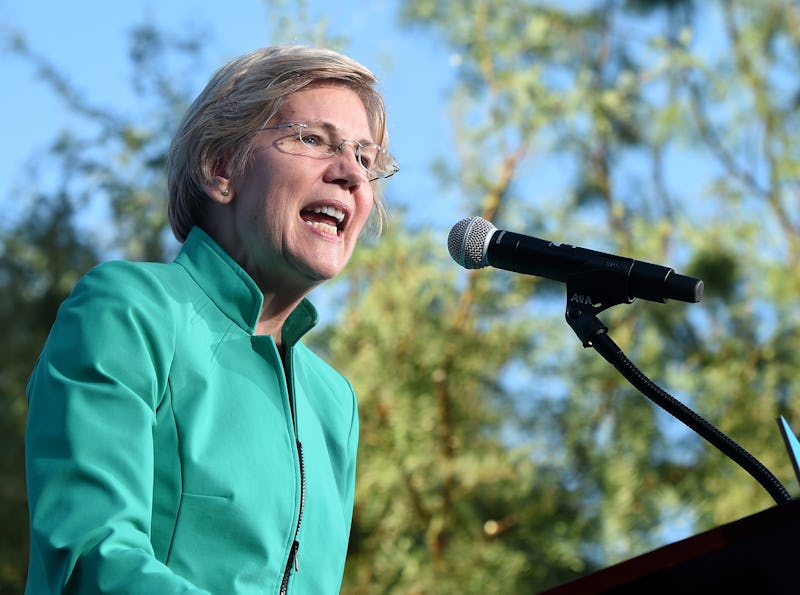 Ethan Miller/Getty Images News/Getty Images
When Senate Majority Leader Mitch McConnell silenced Sen. Elizabeth Warren Tuesday night during her address of the Senate floor, he could not have predicted that his words would become a battle cry of the resistance, quickly echoing across social media. It's less than a day later, and there are already hundreds of "Nevertheless, She Persisted" memes you will want to share in existence — because sometimes, the internet is an amazing place with the ability to turn an unsettling political incident into a statement with real, lasting power.
McConnell invoked the little-known or used Rule XIX to stop Warren from reading a 1986 letter by Coretta Scott King criticizing Attorney General nominee Jeff Sessions. "Sen. Warren was giving a lengthy speech," McConnell told Democrats of his decision to halt proceedings. "She had appeared to violate the rule. She was warned. She was given an explanation. Nevertheless, she persisted."
Warren was forced to sit down and is now barred from speaking on the Senate floor for the remainder of the Sessions consideration (although she eventually did read the entirety of the letter over Facebook Live). However, Twitter is anything but silent. After the exchange, the phrase "Nevetheless, she persisted" immediately began to trend on Twitter, and by Wednesday morning, hashtags such as "She Persisted," "Let Liz Speak," and "Silencing Elizabeth Warren" were going viral.
This is by no means the first time something like this has happened, notes The Washington Post, "As had been the case through a long, embittered presidential campaign (see: 'basket of deplorables,' 'nasty woman'), an off-the-cuff phrase meant to end a debate was instead turned into a badge of honor by the other side."
So here is a round up of some of the best "Nevertheless, She Persisted" memes to date, because this certainly isn't the first time a woman has been unfairly silenced by an insecure man.