The New Cinnamon Toast Crunch Flavors Are Life-Changing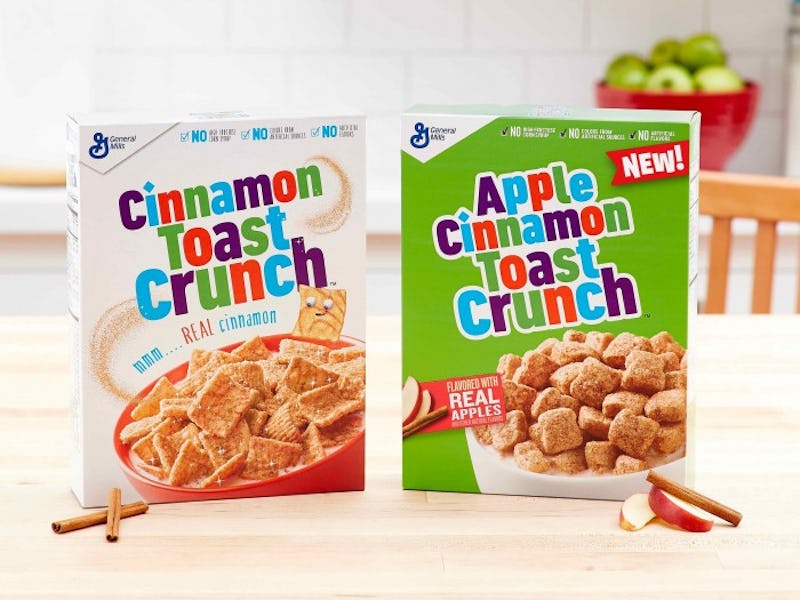 Courtesy of General Mills
Attention all Cinnamon Toast Crunch and French Toast Crunch lovers: your favorite childhood cereal is about to get a serious upgrade that you are not going to want to miss. On Jun. 5, General Mills announced the release of three new Cinnamon Toast Crunch flavors: Apple Cinnamon, Strawberry, and Blueberry!
Although you may have already seen Strawberry and Blueberry Toast Crunch on some of the shelves in your local grocery store, the Apple Cinnamon is their newest flavor that is set to be released during the summer — bumping the Cinnamon Toast Crunch lineup to a gorgeous family of five.
Now, if some of you were totally a Cheerios or Trix kind of cereal lover like I was, then this may not seem like a huge big deal to you. But I promise, there is reason to pay attention — and to even try some of these delicious flavors. The Apple Cinnamon Toast Crunch is made with real apples and cinnamon, while cutting out the nasty artificial flavors, artificial sources, and most importantly, high fructose corn syrup. Michael Pollen must be so proud.
"We hear from people all the time about how well cinnamon and apples go together, so we knew we had to find a way to add apple into our Toast Crunch lineup," said Maria Carolina Commings, senior marketing manager on Cinnamon Toast Crunch, published in a press release by General Mills. "We think cereal fans are really going to love what we came up with, and the unique flavor from real apples."
Here's what the Internet has to say about these new Cinnamon Toast Crunch flavors:
Be sure to keep an eye out for these new flavors! Strawberry and Blueberry are on shelves now, and Apple Cinnamon later this summer. Cue mouth watering.