These 'Rugrats' Accessories Are '90s Perfection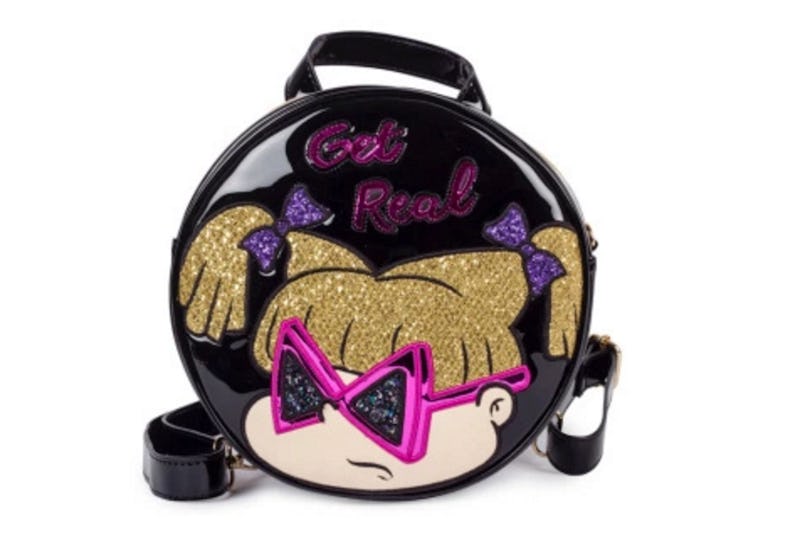 Courtesy of Danielle Nicole
Ready for more details about the Nickelodeon x Box Lunch collab, specifically regarding the Danielle Nicole x Rugrats accessories line? Heck yes you are. These pieces will legit make the dreams of every '90s kid come true. Chuckie Finster and Angelica Pickles are back in the cutest and most totable ways.
Here's everything you need to know about this adorbs collab. According to Women's Wear Daily, there are 10 items, ranging from handbags to pouches to backpacks to key chains, in this collection. All of the pieces are based on the beloved Rugrats characters and pay homage to the bright 'n' bold fashion trends that had their heyday in the '90s, including geometric prints, mixed metallics, and embroidery.
In addition to being pretty much the perfect embodiment of the '90s, the range is limited edition, as well. The collection lands at Box Lunch on Jul. 14. Fans can also shop DN x Rugrats at Danielle-Nicole.com as of Aug. 14. If you can wait until October — and I know, having that sort of patience is unfathomable— that's when the Danielle Nicole x Rugrats line will be available at Bloomingdales.com
This collection made perfect sense since the brand's fans are already so '90s nostalgic.
Danielle Nicole founder and creative director Danielle DiFerdinando told WWD that "whimsical trends of the '90s play big with our customer base, so we knew a collection based on characters that hit the screen in the early '90s would resonate with them."
She even offered some styling tips for these accessories, suggesting that fans pair the pieces with cropped tops, high-waisted jeans, high-top sneakers, and track pants. Um, PREACH!
Seriously, this collection brings the '90s back to the forefront of fashion in the best way. Also, you definitely need to peruse Danielle Nicole's Disney-inspired collections. Those are equally as ace, particularly the Snow White pieces.
Morgan Backpack, $68, danielle-nicole.com
I so want to add this backpack to my repertoire. It's the perfect execution of rock 'n' roll and playful. Thanks to this and the Rugrats range, Danielle Nicole might be my new fave accessories line.