These New 'This Is Us' Season 3 Spoilers Have Hints About The OTHER Jack Pearson Mystery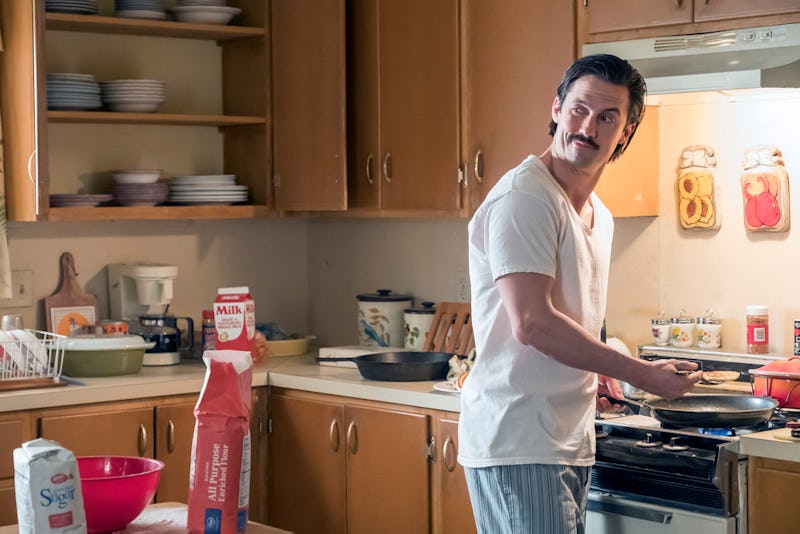 Ron Batzdorff/NBC
The recent big reveal that This Is Us Season 3 will spend a lot of time in Vietnam could mean that the show is finally going to address the show's other big Jack Pearson mystery. That would be the This Is Us theory that Jack's brother is actually alive. Last season, Jack said that his little brother Nicky died during Vietnam, but with these new This Is Us Season 3 spoilers it's hard to believe that's the whole story. In fact, it might not even be the true story.
The circumstances surrounding Nicky's apparent death are something the Jack hasn't discussed yet, but they may be because fans are going to see it for themselves. According to The Wrap, co-showrunner Isaac Aptaker revealed during the Television Critics Association that Jack and Nicky are going to be a big part of Season 3. "I can't tell you who we've cast to play Nicky just yet — but, yes, we are going to be spending a lot of our time in Vietnam," Aptaker said, adding that he "can't say" exactly how many episodes Nicky will be in. Perhaps, because a big reveal will have him showing up not just in Jack's past, but the Big Three's present?
As fans saw in the final shot of Season 2, Kevin is on a mission to find out about his dad's past in Vietnam. Justin Hartley teased in a new interview with Entertainment Weekly that his character's visit to Vietnam will lead to some "super heartbreaking " and "shocking" discoveries about Jack's past that might change the way fans see the Pearson patriarch.
"It's not what anyone is expecting," Hartley said "No one is going to see it coming. It's ambitious stuff." One might say that bringing someone back from the dead is pretty ambitious, no?
If you need more clues that this season might get weird, Milo Ventimiglia also teased in an interview with EW that Jack's Vietnam backstory was a surprise to him. "I didn't see it coming. I really didn't see it coming. And I had a pretty good understanding of what it was going to be," he said. "As he was unfolding the story — and Isaac [Aptaker] was there, and they were explaining everything — I went, 'Oh. Holy sh*t. Holy sh*t. Holy sh*t!'" Now, can we all agree that Jack's brother not really being dead would be an oh sh*t moment.
As of now, no one is saying just what this Season 3 shocker will be or whether it will involve Nicky's life status, but last month, creator Dan Fogelman told Entertainment Weekly that after such a heavy season, Season 3 is going to have "humor and love and levity and then… some wallops." Yes, you'll definitely need to stock up on the Kleenex before the show returns on Sept. 25. "It's our most ambitious season," Fogelman said. "It's going to pack a great deal of emotion, and the storylines are going to surprise people."
This Is Us has always been good at keeping fans on their toes, but for right now, it's a good guess that the mystery surrounding Nicky is going to play a role in this "ambitious" upcoming season. Though, if he does end up being alive still some fans might not be so surprised.