Props From 'The Office' Are For Sale In An Online Auction RN, Including Dwight's Nunchucks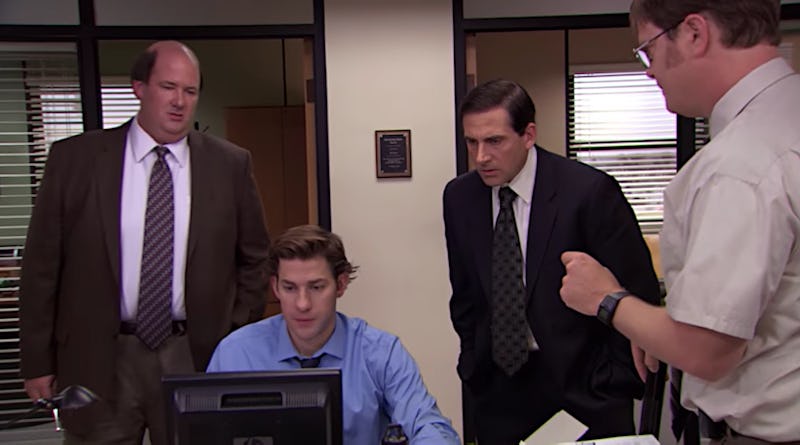 NBC/Netflix
If you've ever wanted to work at Dunder Mifflin or wondered what life in Scranton, Pennsylvania might be like, then today's your lucky day. Through October 5, you can buy props from The Office in an online auction, as reported by Vice. Screenbid is auctioning off hundreds of items for fans to choose from, which means there are plenty of ways to make your own workplace feel a little more Dunder Mifflin-like.
The auction kicked off on September 20, but fans still have more than a week to re-arrange their finances and place some bids. And if you're on a bit of a budget, fear not — there are still tons of items currently under the $100 mark. A $50 asking bid, for example, will grant you the chance to bring home props from The Office like Toby's desk clock, Angela's stuffed gray cat, Stanley's googly-eyed glasses, or Dwight's airplane poster. Fans can also bid on Phyllis' desk phone — although, as with several other tech-related items, it's not clear if it actually works — tons of characters' mock files and folders with Dunder Mifflin memos, expense reports, and order forms, and all kinds of supplies like staplers, mousepads, and paperclip holders.
Fans who have some extra money to burn, however, better get ready, because it's about to be "on like a prawn who yawns at dawn," as Andy Bernard might say. Or, alternately, it's about to be "on like Genghis Khan wearing Sean John in Bhutan." You get the picture. It's on.
On the higher end of the prop auction spectrum, fans can bid on items like Michael's neon St. Pauli Girl beer sign (currently at $1,500) — as featured in the "Dinner Party" episode — Pam's reception desk ($1,000) — as featured in pretty much every single episode— the chairs and table from the company's conference room, or the actual "Dunder Mifflin, Inc." sign that was hung on the front of the building.
Know what else you can get for a steal at the moment? Dwight Schrute's nunchucks, to use "For office protection. From Roy, a parking lot flasher whose sketch looks a lot like you, or a rabid bat," as the caption on Screenbid's website reads. You're not actually supposed to use them on any thing or anyone, though. First of all, because they're just rubber. Also, because violence is bad.
There's truly something for everyone in the 500-item Office auction, no matter your budget. It's worth mentioning, however, that there's a 24 percent buyer's premium tacked on to all winning bids, as per Screenbid's website. Shipping fees start at $14.95 within the U.S., but increase based on item size and fragility.
Look, at the end of the day, spending your hard-earned money on props from The Office might not be the most responsible thing to do, but it's definitely the Michael Scott thing to do. So go ahead: Blow dodge, get outta town, run away from your responsibilities and get yourself a piece of The Office — it'll feel good.