14 Photos From "Our First Stand" Protests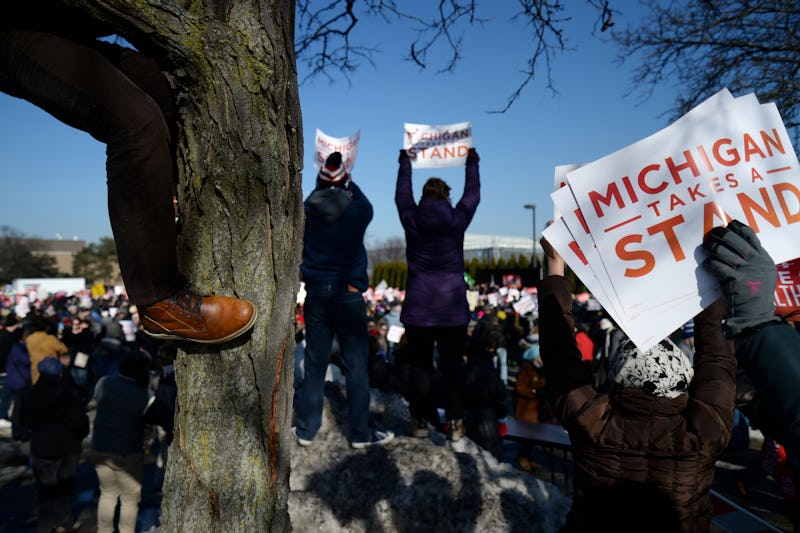 Rachel Woolf/Getty Images News/Getty Images
On Sunday, Democrats, labor organizers, health care activists, and a number of other groups held rallies and protests across the country to combat Republican efforts to repeal the Affordable Care Act and defund Planned Parenthood. These protests, which were part of the "Our First Stand: Save Health Care" effort launched by Vermont Sen. Bernie Sanders and Democratic members of Congress, aimed to illustrate Obamacare's importance. Photos from various Our First Stand events prove just how much Americans are willing to fight for their health care.
For instance, more than 10,000 people attended a rally in Macomb County, Michigan, where Sanders was one of the main speakers. However, although Sanders called for the preservation of Obamacare, he also reiterated a proposal he had consistently made as a Democratic presidential candidate: the implementation of a single-payer system. "Our job today is to defend the ACA," Sanders said in Michigan. "Our job tomorrow is to bring about a Medicare-for-all, single-payer system."
Michigan wasn't the only venue for Our First Stand protests. Virginia Sen. Tim Kaine addressed a thousand-person crowd in Richmond, while Maryland Sen. Chris Van Hollen encouraged Americans to fight for the ACA in Bowie. There were also rallies in San Francisco, Los Angeles, Newark, Boston, and many other cities that all had a number of attendees. The following photos from these events indicate that people are gearing up to take on Donald Trump and the Republican Party, and many came out to fight for their lives.
San Francisco, California
In San Francisco, thousands gathered in the city's Civic Center Plaza to share their experiences with Obamacare and protest its repeal. Among the speakers at the event were House Minority Leader Nancy Pelosi and San Francisco Mayor Ed Lee. "Their plan is to make America sick again," Pelosi told the crowd as she criticized her Republican colleagues.
Lee, meanwhile, emphasized just how destructive an ACA repeal would be. "A repeal vote will start us down the path toward the road to chaos," Lee explained. "It means turning our backs on the most vulnerable."
Los Angeles, California
Outside the USC Medical Center in Los Angeles, Our First Stand rally organizers told the crowd that five million Californians could lose their health care coverage as a result of the Obamacare repeal. As one of the signs in this photo indicates — "My husband will lose his health insurance" — the fight to protect Obamacare is not just a political one, but a deeply personal one with lives at stake.
Warren, Michigan
In Warren, Sanders and Senate Minority Leader Chuck Schumer addressed thousands of people. This county contains suburbs of Detroit that once voted for Barack Obama, but flipped to Trump during this election. Despite this, Macomb County residents — as well as people from all over Michigan — came out in full force to fight for their health care.
One sign in the above photo reads "Taking away ACA is a death sentence," and for many Americans, that would indeed be the case. According to Sagen Isham, who told NBC that she came to the rally in Warren from an hour away in Burton, Michigan, the ACA is crucial for people who have preexisting conditions, like she does.
Boston, Massachusetts
The Warren, Michigan rally wasn't the only one that had to be relocated outside due to high attendance. In Boston, Sen. Elizabeth Warren addressed a crowd of over 6,000 people outside Faneuil Hall. "Donald Trump hasn't even been sworn in," Warren said as people booed in response, "but he and his Republican allies are already trying to ram through repeal of the Affordable Care Act."
We are here today — thousands strong in Boston, and at more rallies all across this country — because we will make our voices heard. If Republicans try to rip health care out of the hands of millions of Americans, we will fight them every step of the way.
One rally attendee, Harwich resident Janis McGrory, spoke to the crowd about how Obamacare had provisions for addiction treatment. Her daughter, Liz, died of an accidental overdose in 2011.
"Her story is much like thousands of others' suffering from this disease that need treatment, like any other disease," McGrory said. "The Affordable Care Act provides access to such treatment. It provides hope."
New York, New York
In New York, Our First Stand rally attendees got creative with their signs outside the Trump International Hotel. While some made it quite clear what the impact of the Obamcare repeal would be — "The ACA saved my life" — others questioned Trump's insistence that he wouldn't repeal Obamacare without replacing it with something better. "Trumpcare makes us sick!" was an exclamation found on many of the signs.
All across the U.S., protests to defend the Affordable Care Act saw thousands of attendees who wanted to preserve health care and take a firm stance against Republic efforts. If the ACA is repealed, the effects would be devastating for millions of Americans, but given the turnout at Sunday's Our First Stand events, it is clear that Obamacare is not going down without a fight.