These Photos Of A Portland Hero's Mom At A Vigil Are So Powerful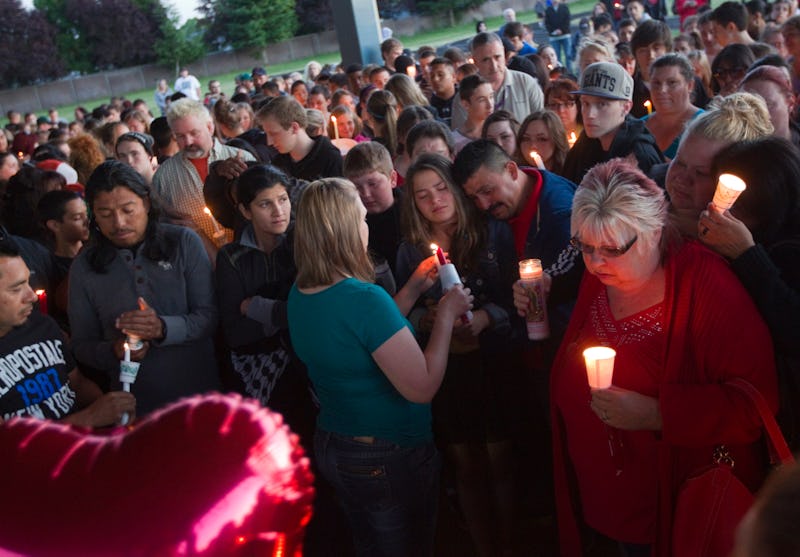 Natalie Behring/Getty Images News/Getty Images
The grief is palpable in the aftermath of the death of 23-year-old Taliesin Myrddin Namkai-Meche, who was killed alongside 53-year-old Rick Best while defending two young women from an Islamophobia-fueled attack on a train in Portland, Oregon, last week. Micah Fletcher, 21, was also attacked for defending the women, and though he was injured, he survived. Among candle-lit vigils, memorials, and thoughtful words from the victims' loved ones, a collection of photos of a Portland hero's mother hugging mourners shows how love will always overcome fear.
During the vigil, hero Namkai-Meche was described as "a joyful and magical spirit," and photos of his mother, Asha Deliverance, are inspiring even those Americans who couldn't attend the vigil in person. In striking images from a vigil for the victims, Deliverance is seen warmly embracing other mourners, including a woman in a white headscarf who approached her.
Like the letter she penned to President Donald Trump on Memorial Day, the photos of Deliverance emphasize the importance of Americans uniting to comfort one another and defend marginalized people from bigotry — the way her son and Best did on that train. Per her letter:
They recognized the truth: We are more alike than we are different. To ride the train home without being assaulted because of the color of your skin or your religious beliefs is an inalienable right.
At the end of her letter, Deliverance once again called for Trump to condemn violence and implored him to honor her son's courage and sacrifice by using his influence and power to speak out against hate groups:
You have said that you will be a President for All Americans. So I ask you, Mr. President to take action at this time. Your words and actions are meaningful, here in America and throughout the world. Please encourage all Americans to protect and watch out for one another. Please condemn any acts of violence, which result directly from hate speech [and] hate groups. I am praying you will use your leadership to do so. It would deeply honor Tellesin's sacrifice, which has been amplified by the millions of voices who have supported our family in response to this tragedy.
Trump's response to the attacks (criticized as "weak") was a statement sent from the official POTUS twitter account that read "The violent attacks in Portland on Friday are unacceptable. The victims were standing up to hate and intolerance. Our prayers are [with] them."
Regardless of the actions of the president, other Americans can certainly be inspired by Deliverance's words and actions and honor Namkai-Meche and Best's memory.