8 Photos Of Ivanka & Tiffany Trump That Show Off Their Sisterly Bond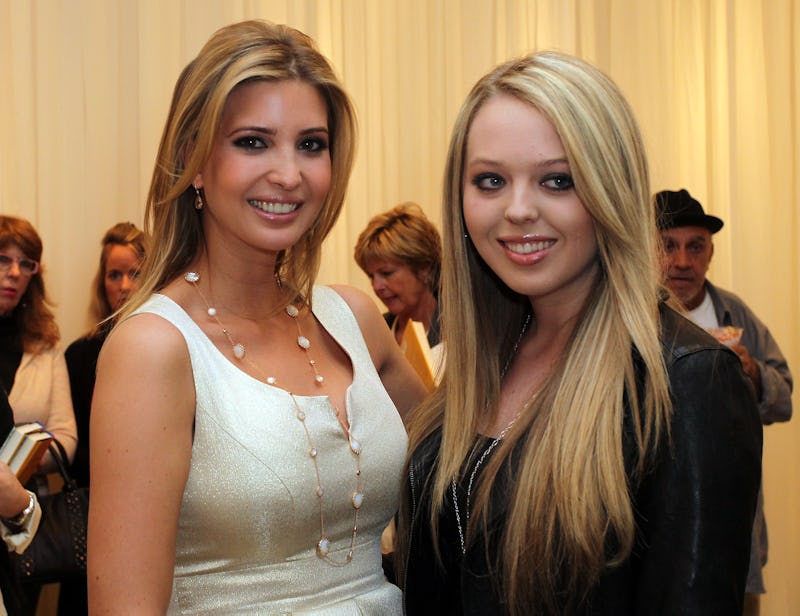 Frederick M. Brown/Getty Images Entertainment/Getty Images
All families have different dynamics — and those of the Trump family have sparked much curiosity. In fact, you may be wondering whether Trump's two daughters, who are half-sisters, get along or play a role in each other's lives. In fact, these photos of Ivanka and Tiffany Trump show that the sisters seem to support each other and frequently celebrate their family's most important moments together.
In a 2016 interview with People magazine, Ivanka discussed her relationship with her younger sister. She explained that, while Tiffany grew up on the west coast with her mother, Marla Maples (Trump's second wife), the sisters would still "see each other on all of the holidays and talk to each other frequently." Ivanka also told People, "She's my little sister! I've been close to Tiffany her whole life, and I really love her."
Furthermore, Ivanka told the publication that she and Tiffany spent more time together once her sister moved to New York after college. "It's wonderful because she's right here in New York," Ivanka told People. "She'll come with [me and Jared to our country house] on weekends sometimes, and she's always with my kids ... She's a really good person."
While Tiffany has not commented publicly on her relationship with Ivanka, one of Tiffany's friends told Vogue in February 2017 that she reportedly very much looks up to her older sister. The friend also added that Ivanka gives Tiffany "politics advice, boy advice, and sisterly advice," among other tips.
Overall, it seems clear that Ivanka and Tiffany have always played a role in each other's lives. These photos from the past few years show that, as adults, the sisters appear to have strongly supported each other and their family — and also had a little fun along the way.