Photos Of John Lewis Fighting For Civil Rights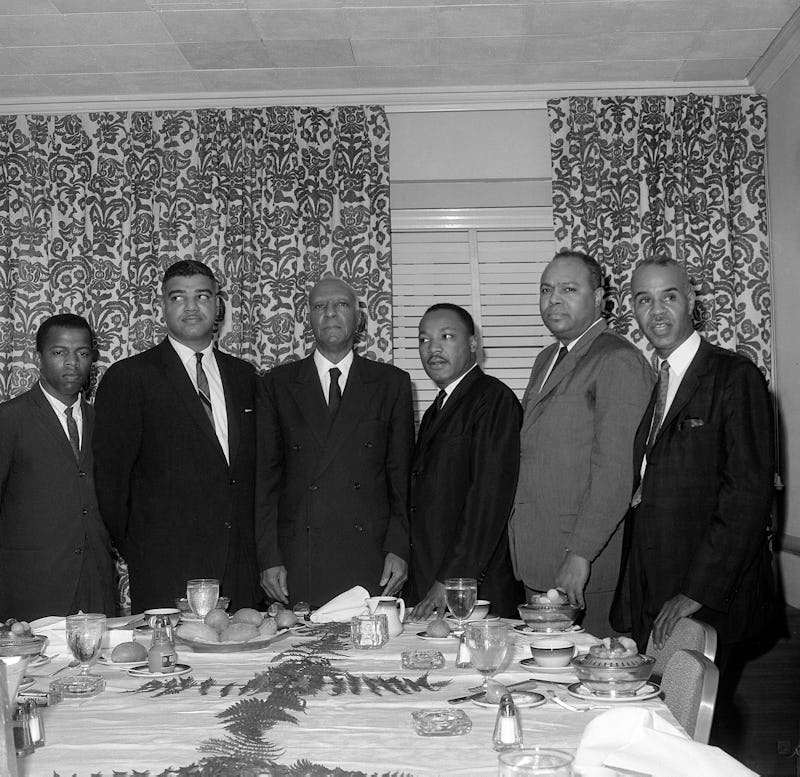 AFP/AFP/Getty Images
Rep. John Lewis of Georgia became the latest target of President-elect Donald Trump's ire this week. The beloved Congressman dared to call Trump an "illegitimate president" in an upcoming interview with NBC's Meet the Press. Trump attacked Lewis in a series of tweets Saturday morning, in which the President-elect criticized the Congressman for being all "talk talk talk" but "no action or results." Trump ended his Lewis Twitter beef with his trademark sign-off: "Sad!"
But Lewis, a longtime civil rights activist, is hardly "all talk." The Congressman became a national icon in his early 20s as one of the original Freedom Fighters, and was known as one of the "Big Six" leaders during the Civil Rights movement. Lewis could often be seen marching or protesting alongside Martin Luther King, Jr., and he even spoke at the legendary March on Washington in 1963, during which King, Jr. delivered his historic "I Have a Dream" speech.
Lewis helped organize some of the biggest civil rights demonstrations, including the voting rights march from Selma to Montgomery, Alabama, in 1965. He's still organizing sit-ins today, including the recent Congressional sit-in advocating for more gun control reform.
But I don't have to tell you about the power and bravery of Rep. John Lewis. These photos speak for themselves:
The Youngest Freedom Rider
Lewis was the youngest member of the "Big Six" Civil Rights leader, but that didn't stop him from organizing and fighting. He joined the Freedom Riders at age 21.
Marching For Voting Rights
As one of the leaders of the Civil Rights movement, Lewis organized the attempted the march from Selma to Montgomery, Alabama, to demand voting rights for black Americans. Lewis spent much of his time in the 1960s organizing for fair voter rights laws for people of color.
Meeting Officers At The Edmund Pettus Bridge
When Lewis led about 600 people across the Edmund Pettus Bridge, they weren't welcomed on the other side. At the edge of the bridge, Lewis and the hundreds of marchers were greeted by over 100 Alabama State Troopers with tear gas and night sticks. The troopers assaulted the marchers and ended up injuring nearly 60 people, including Lewis, who suffered a fractured skull.
Horrifying Photos Of Arrest
Despite his calls for peaceful protesting, Lewis was arrested many times throughout the 1960s. However, Lewis didn't stop protesting when the 1960s ended. Lewis has been arrested over the last several years for his peaceful demonstrations, including protests against the Embassy of Sudan for the genocide in Darfur.
A Lifetime Of Service
Lewis continues to serve his country as a member of the U.S. House of Representatives. The popular Congressman has been serving since 1988, and still continues to organize demonstrations on and off Capitol Hill.