These Photos Of The Violence In Catalonia Are Actually Shocking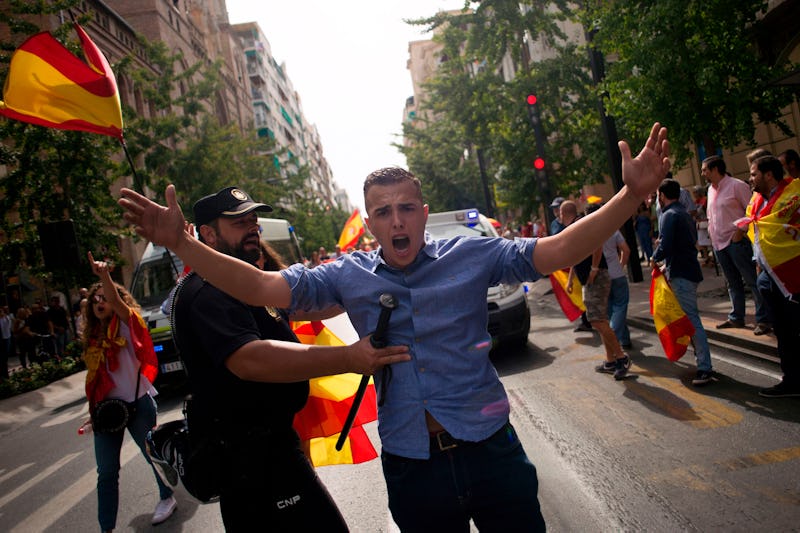 JORGE GUERRERO/AFP/Getty Images
A referendum on Catalonian independence turned violent Sunday as voters clashed with police in the streets of northern Spain. Reports stated that hundreds of people had been injured as police used rubber bullets and batons to block voters from casting their ballots. In fact, photos of the Catalonia referendum showed the chaotic scene that ensued when one region of Spain sought independence.
Catalonia is a region in northwestern Spain that includes the popular city of Barcelona. Catalonia has been recognized as an autonomous entity since the 1930s, but the relationship between Catalan residents and the rest of the country has never been totally at ease.
According to The Atlantic, the most recent independence movement — the movement that sparked Sunday's referendum — stemmed from a 2010 court decision that limited Catalonia's autonomy. In 2014, about 80 percent of Catalan voters elected to give the region independence in a non-binding referendum. Sunday's referendum was another opportunity for Catalan voters to call for independence, perhaps binding this time, but the Spanish government declared the vote illegal and reportedly opposed it with police force.
Barcelona Mayor Ada Colau tweeted on Sunday that more than 400 people had been injured in clashes with police in Catalonia. She called for "an immediate end to police charges against the defenseless population." As photos from the referendum show, her concern was warranted. Please note, some of the below photos show injuries.
"We Just Want To Vote"
Video footage showed crowds of voters with their hands up swarming armed police officers.
Walking Toward Help
Riot police stood on city street corners and sometimes violently attacked pedestrians.
Punishment
Police brutality reportedly left voters bloodied for exercising a democratic right.
Marching
Police were seen marching in military fashion through streets in Catalonia.
Clashes
Clashes with police, as the mayor of Barcelona said, pitted armed officers against the general public.
"Deplorable"
Police were seen decked out in full riot gear, with shields and batons.
Rubber Bullets
In addition to the use of batons, police officers were seen shooting rubber bullets at voters.
Pepper Spray
While police tried to block the referendum, some civilians apparently tried to guard the polling stations.
Separation Of Powers
In some cases, local police appeared to confront other police forces that had been sent to block voters.
Violence Against Each Other
Even those confrontations between local and other police forces appeared to turn violent.
Knocked Down
Crowds of people were pushed down during the clashes with police.
Firemen
Catalan firemen reportedly formed a barrier to keep police from the unarmed civilians.
Behind Closed Doors
Catalonia's popular football team, FC Barcelona, condemned the police violence and decided to play its game away from the public eye.
Basque Country
Support for voters in Catalonia reportedly came from the Basque Country, another autonomous region in northern Spain that has fought for independence.
Spanish Flag
The Spanish flag has become symbol of unity, while the Catalan flag has become a symbol of independence.
As the day came to an end in Spain, it wasn't clear what the referendum had accomplished. According to The Guardian, police had succeeded in closing 336 of more than 2,000 voting locations across the region. It appeared that none of Spain's top officials outside of Catalonia, including Prime Minister Mariano Rajoy, had commented on the violence surrounding the vote, but plenty of leaders from other European Union member countries had condemned the violence. Meanwhile, a spokesperson for the Catalan government reportedly called the episode "a savagery." In total, at least 465 people were reportedly injured in the violence, and the fight for Catalonian independence appeared to be far from over.