These Prismatic Rainbow Makeup Brushes Will Have You That Much Closer To Reaching Mermaid Status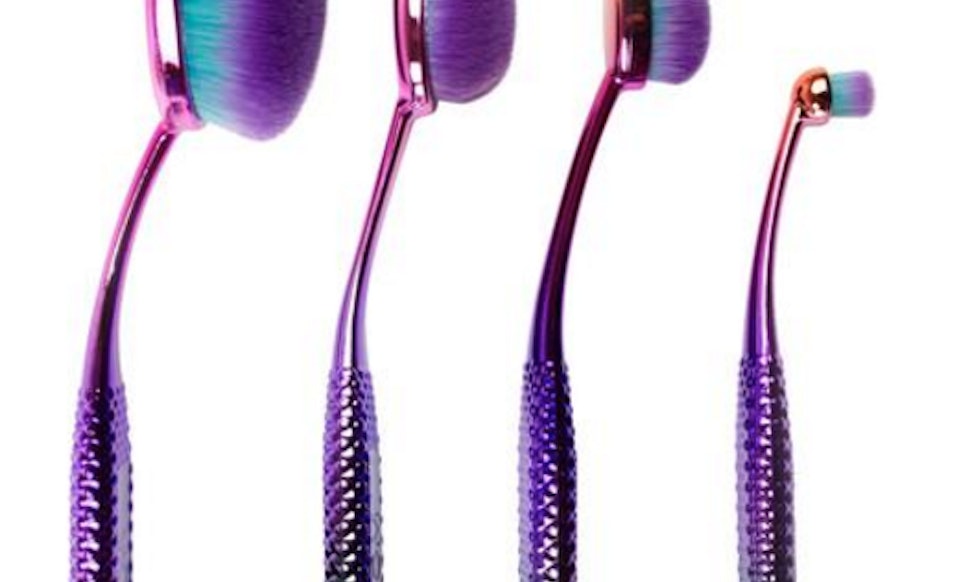 Courtesy Royal & Langnickel
Your makeup brush obsession is about to be taken to the next level, just when you thought that wasn't possible. By now, you'd thought you'd seen it all. Unicorn brushes, Harry Potter-inspired tools, but no. The beauty applicator goodness just keeps on coming! The Moda Prismatic Makeup Brushes are going to make you fall in love, all over again. Because seriously, they're a multi-colored dream come true.
The set features not one, but four purple and teal ombre brushes that look as though they'd be fitting for Ariel herself. She may have plenty of thingamabobs, but she doesn't have beauty brushes like this, you know what I'm sayin'? Allure reports that these brushes will be available at Walmart and on the Royal Brushes website in Feb., and trust me, you're going to want to scoop these up as soon as they're available.
Moda Prismatic Face Perfecting Kit, $25, Royal & Langnickel
These brushes are similar to the Artis oval synthetic bristle brushes, except, well, they're super colorful. The set will retail for $16.48 at Walmart, according to Allure, and they're listed at $24.99 on the brand's website. So, if you've been hesitant to ditch your sponge application tool, or were just waiting for the right set of affordable brushes to come along, now's your chance to upgrade your beauty collection in style!
Moda Prismatic Face Perfecting Kit, $25, Royal & Langnickel
Aren't these gorgeous? Stay tuned for them on the Royal & Langnickel as well as in store and online at Walmart!
These are must-haves for your beauty stand.
Royal & Langnickel Makeup Brushes on YouTube
Moda Prismatic Face Perfecting Kit, $25, Royal & Langnickel
Not only are they super pretty, they're also very effective. The kit offers a little bit of everything. You can apply foundation, but also get the perfect contour with the varying brush sizes the range offers.
If you've been dying to try oval-shaped brushes, all you have to do is wait until Feb. to finally make your makeup dreams come true!