Video Of Protesters Driving Kirstjen Nielsen Out Of A Mexican Restaurant Is Intense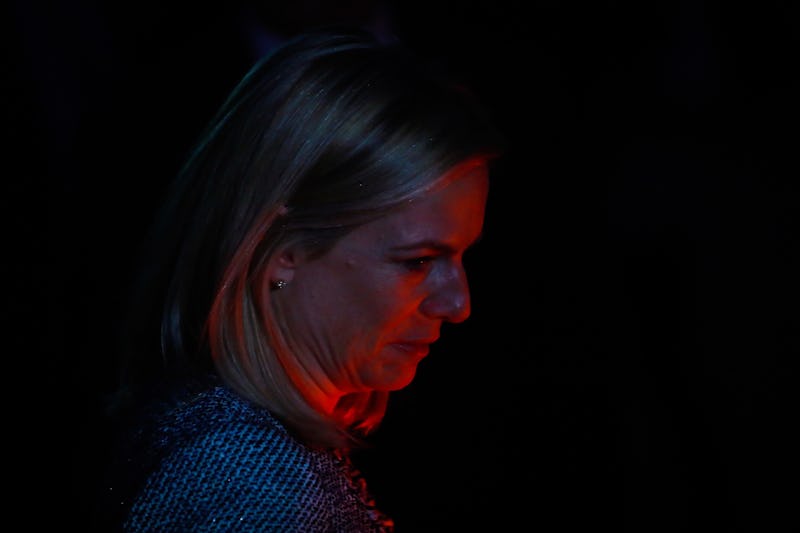 Hector Vivas/Getty Images News/Getty Images
Public furor has swollen to a bursting point over the Trump administration's policy of separating migrant children from their parents at the U.S.-Mexico border. The nation has seen a number of protests and petitions formed in past weeks, but rarely do constituents get to confront the head of the institution responsible for controversial policies. On Tuesday, the Metro DC Democratic Socialists of America (MDCDSA) did just that with the Department of Homeland Security as a video shows protesters driving Kirstjen Nielsen out of a Mexican restaurant in D.C.
The group repeatedly chanted "Shame!" and "Abolish ICE" throughout the confrontation, which happened around 8 p.m. EST on Tuesday night, according to the New York Post. The video shows waitstaff trying to contain the protestors as they disrupt the restaurant.
"We will not stand by and let Secretary Nielsen dine in peace, while she is directing her employees to tear little girls away from their mothers and crying boys away from their fathers at our border," says Margaret McLaughlin, a member of the Metro DC Democratic Socialists of America Steering Committee, in a statement emailed to Bustle. "Secretary Nielsen and everyone else who has carried out these brutal and cold-blooded orders to rip apart families should never be allowed to eat and drink in public again. These barbarous acts must end and those at the helm must be held accountable. While Secretary Nielsen's dinner may have been ruined, it is nothing compared to the horrors she has inflicted on innocent families."
Shot by an MDCDSA protestor, video of the confrontation shows members confronting Department of Homeland Security Secretary Nielsen and disrupting her dinner at the MXDC Cocina Mexicana, a high-end Mexican restaurant in Washington D.C. The protestors often yelled questions at Nielsen, and at one point, asked her, "What's your salary, Kirstjen? How much do you make locking up children?" Nielsen keeps her head down throughout the video, staring into her lap, as chants like "If kids don't eat in peace, you don't eat in peace!" and "End Texas concentration camps!" drowned out the restaurant.
Nielsen avoids conversation with the suited man across from her, whose identity is not clear. Two men stand guard in front of her table. A Twitter user named Osita Nwanevu seemed to catch Nielsen walking out of the restaurant after the confrontation, which lasted at least 10 minutes.
The MDCDSA statement also details what supposedly happened after the restaurant hostilities, claiming that the police were called. "Metro DC DSA will continue to oppose deportation, detention, and family separation for all migrants," it adds.
MDCDSA is the Washington D.C. chapter of the national non-profit Democratic Socialists of America, which is the largest socialist organization in the United States. Per MDCDSA's website, the group stemmed from a campaign called "We Need Bernie," an initiative to support Bernie Sanders' presidential bid. Since then, the group has burgeoned its political presence across the nation in an effort to support workers' rights, strengthen unions, promote racial justice and "oppose dangerous fascist ideologies."
Twitter users were quick to point out the incongruity of the homeland security secretary dining at a Mexican restaurant, a point that was also brought up during the confrontation.
Others thought that the irony apparent in the dinner could only turn out one way and weren't sure what she was thinking in her choice of restaurants.
The Trump administration's "zero tolerance" policy requires that adults caught crossing the border illegally be held on criminal charges. At least 2,000 children have been ripped from their parents and families as a result, according to the New York Times. The policy has been met with condemnation from the U.N. and various human rights organizations. If something doesn't give, the nation can only expect to see more public clashes like this one.