Quotes from Donald Trump's Inauguration Speech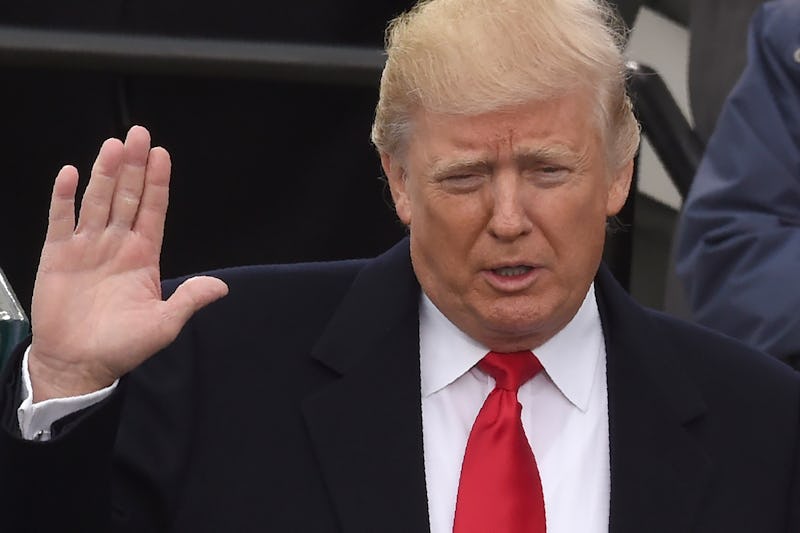 TIMOTHY A. CLARY/AFP/Getty Images
Donald Trump was sworn in as America's 45th president on Friday. As always, the ceremony was replete with speeches, and not surprisingly, the most notable came from the new commander in chief himself. As the most striking quotes from Trump's inauguration speech reveal, the new president struck a defiant and aggressively populist tone on Friday, combining themes of unity and celebration with a dark, grim assessment of the state of the country.
The inauguration speech is a celebrated tradition in American politics — a chance for the incoming president to set the tone for their administration and give Americans an idea of what to expect over the next four years. From that perspective, nothing in Trump's speech was terribly surprising. He spoke repeatedly of the need to secure America's borders and keeping the country safe — two of his biggest campaign themes.
Trump also presented his administration as a triumph for everyday citizens and a transfer of power "not just from one administration to an other," but from Washington, D.C. to the American people. This sort of populism, too, was a cornerstone of his campaign.
But he also veered into darker territory, speaking of the "carnage" in inner cities and condemning the "ravages of other countries." This pessimistic outlook was also characteristic of his campaign.
Here are some of the key quotes from Trump's inauguration speech.
Transfer Of Power
"Today, we are not just transferring power from one administration to another, but we are transferring power from Washington, D.C. and giving it back to you, the people."
The State Of The Union
"Mothers and children trapped in poverty in our inner cities. Rusted-out factories scattered like tombstones across the landscape of our nation. An education system flush with cash, but which leaves our young and beautiful students deprived of all knowledge. And the crime and the gangs and the drugs that have stolen too many lives and robbed our country of so much unrealized potential. This American carnage stops right here and stops right now."
Power To The People
"What truly matters is not which party controls our government, but whether our government is controlled by the people. January 20th, 2017 will be remembered as the day the people became the rulers of this nation again."
Shades Of Fascism
"We share one heart, one home, and one glorious destiny."
America First, Part 1
"For many decades, we've enriched foreign industry at the expense of American industry, subsidized the armies of other countries while allowing for the sad depletion of our military. We've defended other nation's borders while refusing to defend our own."
America First, Part 2
"We assembled here today are issuing a new decree to be heard in every city, in every foreign capital, and in every hall of power. From this day forward, a new vision will govern our land. From this day forward, it's going to be only America First. America First!"
The Ravages
"We must protect our borders from the ravages of other countries making our products, stealing our companies and destroying our jobs."
An Infrastructure-Centric Jobs Program?
"We will build new roads, and highways, and bridges, and airports, and tunnels, and railways, all across our wonderful nation. We will get our people off of welfare and back to work, rebuilding our country with American hands and American labor."
A Bold Promise
"We will reinforce old alliances and form new ones, and unite the civilized world against radical Islamic terrorism, which we will eradicate completely from the face of the earth."
The True Believer
"At the bedrock of our politics will be a total allegiance to the United States of America, and through our loyalty to the country, we will rediscover our loyalty to each other. When you open your heart to patriotism, there is no room for prejudice."
Not In Campaign Mode Anymore
"The time for empty talk is over."
Just Kidding
"Together we will make America strong again. We will make America wealthy again. We will make America proud again. We will make America safe again. And yes, together, we will make America great again."