What These Sandy Hook Parents Went Through To Avoid Harassment Is Heartbreaking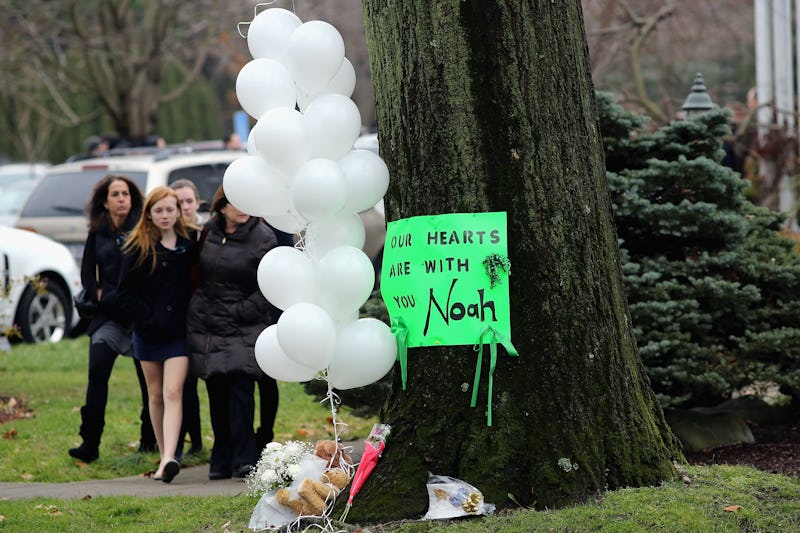 Spencer Platt/Getty Images News/Getty Images
The parents of a 6-year-old boy killed in the 2012 Sandy Hook shooting will face the Infowars conspiracy theorist who claims the tragedy was a hoax in court on Wednesday. The Sandy Hook parents are suing Alex Jones for defamation, claiming his conspiracy theories have made them the targets of endless harassment — to the point that they can't even visit their son's grave. Jones' lawyer is attempting to have the case dismissed, as well as seeking more than $100,000 from the family to cover the radio host's court costs.
"This type of misinformation is a bit of a societal crisis," Veronique De La Rosa, the mother of 6-year-old Noah Pozner, told The New York Times. "This isn't someone on a soapbox in Times Square spewing nonsense. It's someone who every day generates income from his demonstrably false utterances."
De La Rosa and Leonard Pozner have moved seven times since their son was killed in a school shooting in an effort to avoid the continuous death threats and other harassment. They now live hundreds of miles from Noah's grave.
"I would love to go see my son's grave and I don't get to do that," De La Rosa told The Times.
In the immediate aftermath of the mass shooting that killed Noah and 25 others, Jones claimed the shooting never happened and called the Sandy Hook parents "crisis actors." He's also repeatedly played clips of an interview De La Rosa did with CNN's Anderson Cooper to his audience that he claims was faked.
Leonard similarly claimed in a court affidavit that Jones went on an "angry rant" about him for an hour on his YouTube channel and showed his audience Leonard's personal information, along with maps to addresses Leonard was associated with at the time.
"Sandy Hook is a synthetic, completely fake, with actors, in my view, manufactured," Jones said in a 2015 show, claiming that the children killed at their elementary school were actually actors.
The Sandy Hook parents are now tied up in a legal battle with Jones over the harassment they say they've faced for the past five years because of Jones' insistence that they're part of a government hoax.
Jones' lawyer claims the Sandy Hook parents took things out of context, writing in a court document that certain comments Jones made "in connection with possible faking or staging events at the Sandy Hook shooting" weren't attacks on the victims' families, but accusations "against the media and government officials, whose actions led many to question the official version of the event," The Times reports.
The radio hosts' is currently caught up in two other lawsuits involving Sandy Hook victims' families, as well as a fourth brought by a man who Infowars falsely identified as the gunman in the Parkland, Florida shooting that took place on Valentine's Day.
He's faced criticism from social media companies, too. Facebook suspended Jones' personal account for 30 days on Friday for alleged bullying and hate speech. "Our community standards make it clear that we prohibit content that encourages physical harm [bullying], or attacks someone based on their religious affiliation or gender identity [hate speech]," a Facebook spokesperson told The Guardian.
While the suspension does little to combat his conspiracy theories, the Sandy Hook parents' court battle seeks to force Jones to stop making false claims that endanger their safety.