Women Can Finally Drive In Saudia Arabia & Their Reactions Are Pure Joy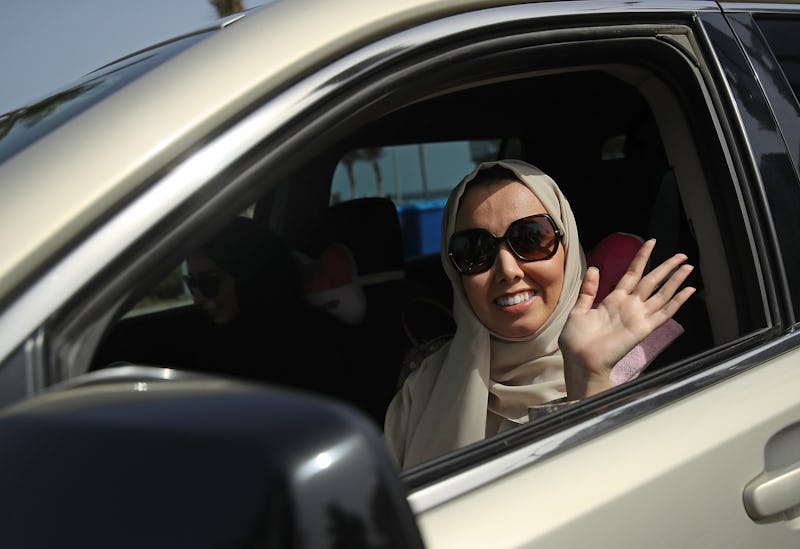 Sean Gallup/Getty Images News/Getty Images
Do you remember the freedom you felt when you first got your driver's license? The endless possibility, the call of the open road? Well, thanks to a long-overdue change in the laws, Saudi Arabia's female population can finally experience that. And just by looking at these photos and tweets of Saudi women driving, you'll be able to see what an important moment it really is.
"I'm speechless. I'm so excited it's actually happening," Saudi woman Hessah al-Ajaji told Fox News. She was one of many woman who took advantage of the ban on women driving being lifted as soon as she possibly could, which was right after midnight on Sunday morning.
"I feel like I'm surprised — am I really driving in my own country? I feel happy, relieved. I feel like I'm free," Mona Al-Fares, a doctor who also took her husband and children for a ride soon after midnight, told CNN.
There's still progress yet to be made in Saudi Arabia in terms of women's rights, though. For example, CNN reported in May that four Saudi women rights activists had been jailed, soon before the end of the ban that they campaigned to lift. CNN also discussed the possibility that lifting the ban was less about women's rights, and more about the country's international reputation. Despite those issues, though, there is plenty to celebrate right now for the women who are finally getting behind the wheel legally in their country for the first time.