These Sexist Made-For-TV Christmas Movie Tropes Need To Go ASAP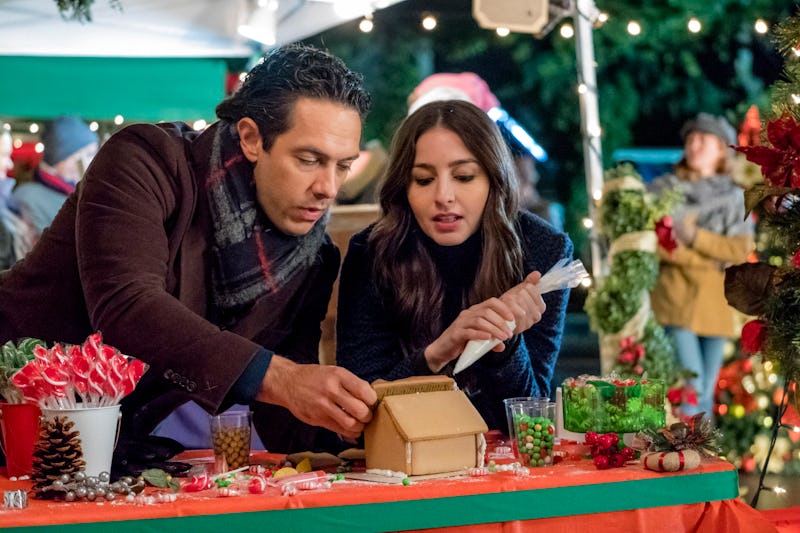 Hallmark Movies & Mysteries
Made-for-TV Christmas movies, it's time we had a talk. You give us entertainment each holiday season, and for that we are grateful, but there's something that needs to change. Specifically, these sexist made-for-TV Christmas movie tropes need to go far away and never return. Christmas movie tropes are what make a Christmas movie. If two hours go by and not one scrooge has been converted into a holiday junkie, then it's not a real made-for-TV Christmas movie. That said, not all tropes need to be carried on into the new millennium.
Women in made-for-TV Xmas movies fall into two categories: they're either mothers or single ladies desperate for love — occasionally they are both (single moms FTW). Obviously, there's nothing wrong with mothers or single women, but to constantly have ladies reduced to one of those two things in Christmas movies is exhausting. Furthermore, it means their holiday priorities are always about the same thing: their kids or their love lives. (This leads into the "workaholic" trope we'll get to later.) It's time made-for-TV Christmas movies looked outside the box when it comes to female characters, and avoiding these tropes is a great place to start.
The Workaholic Trope
Why is it that women who put their careers first are always shown as grinches in made-for-TV Christmas movies? You know the type, women who force everyone in the office to stay late and work during the holidays, or those who care more about meeting a deadline then spending extra time with their families. In the Freeform movie Christmas Cupid, it's Sloane (Christina Milian), a young woman so focused on her career she's forgotten the meaning of love, apparently. ABC's Santa Baby also used this trope by making protagonist Mary's high profile job literally keeping her from seeing Santa Claus (her father).
However, all those eye-roll worthy plot conventions are better when a movie forces the working woman to lose her job in order for her to find the meaning of Christmas, like Hallmark's The Christmas Pageant or Lifetime's 12 Men of Christmas, in which a woman loses her high-powered Manhattan job and is forced to move to Montana. Only after she loses her job does she find the true meaning of Christmas... and a man to keep her warm during the winter nights.
The "All I Want For Christmas" Is A Man Trope
Speaking of 12 Men of Christmas, there's another made-for-TV Christmas movie trope that needs to die, and that's the "all I want for Christmas" is a man trope. This one pretty much speaks for itself, but if you're wondering what I mean, look no further than ABC Family's 12 Dates of Christmas, the heroine is stuck reliving Christmas Eve until she finds true love. She is literally a prisoner of time and the only way out is to find a man that she loves and make him love her. Why?
The Christmas Makeover Trope
Yes, Melissa Joan Hart's crazy curls at the beginning of ABC Family's Holiday in Handcuffs are horrible (see above). But is her Christmas makeover really necessary? How does wearing warm-colored sweaters and straight hair symbolize finding love on Christmas?
The Perfectionist Trope
If made-for-TV Christmas movies were real life, then 80 percent of women would be frantically obsessing over the right color tinsel right now. An extension of the workaholic trope, the perfectionist trope is when a female character has the drive of a workaholic, but channels it into holiday cheer instead, like the singing competition in ABC Family's The Mistle-Tones or Hallmark's Christmas List.
Granted, it's unlikely that these made-for-TV Christmas movie tropes will ever really go away. But, if they must be used, let's hope they're at least executed with a bit more creativity in movies to come.