These 'GoT' Olympic Photos Remind Us The Winter Games Are Coming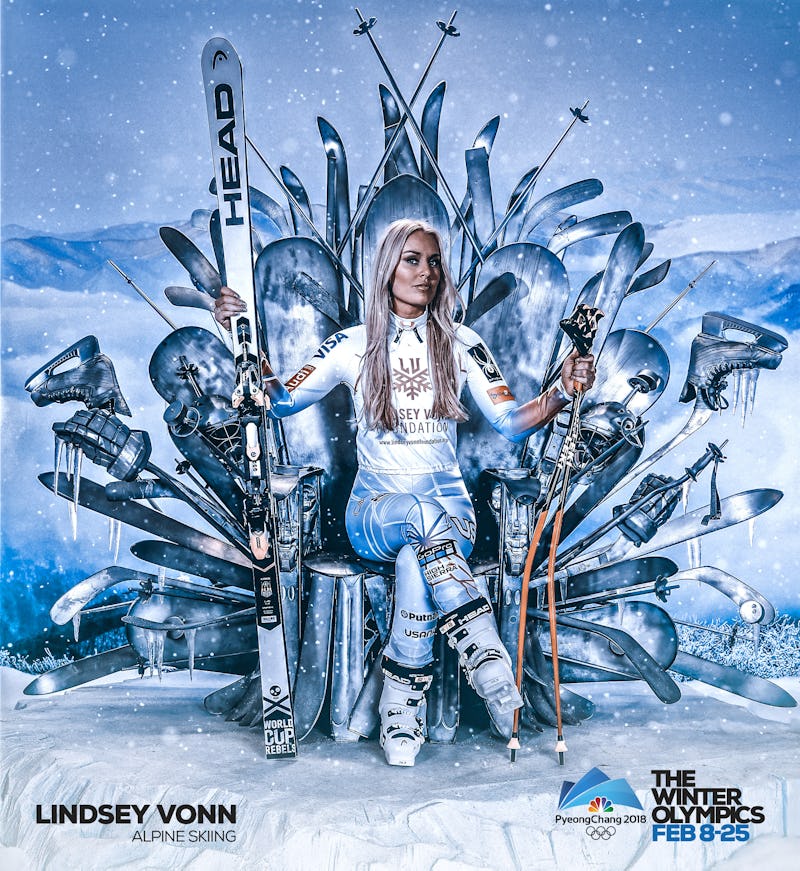 USOC/NBC Olympics
Winter may already be here for Westeros, but the Winter Olympics are still months away. To launch the new Olympic Channel: Home of Team USA and get ready for the 2018 winter games, several Team USA athletes sat on the Iron Throne and posed for some chilling photos.
USA top athletes hoping to compete in the PyeongChang Winter Olympics from Feb. 8-25 2018 are part of the campaign to introduce the new cable television channel, which is a partnership with NBC Universal that launched on Saturday, where viewers can watch Olympic-programming around the clock, according to a press release.
Alpine skiers Lindsey Vonn and Mikaela Shiffrin, para snowboarder Amy Purdy, figure skaters Gracie Gold and Ashley Wagner, ice hockey player Hillary Knight, and more all took their turn on a Winter-Olympics themed Iron Throne.
According to a news release, the throne was made out of 36 skis, 8 snowboards, 28 ski poles, 18 hockey sticks, ice skates, gloves, masks, and pucks from various sellers on Craigslist to assemble the Iron Throne replica. They were then covered with metallic paint. The base was styrofoam, sculpted to resemble ice, and the photo of the mountain range seen in the background of the photos is actually of the Taebaek Mountains in PyeongChang, South Korea, where the 2018 Winter Olympics will be held.
The Olympic Channel will be available to many subscribers through Altice, AT&T Direct TV, Comcast, Spectrum, Verizon, and some streaming partners. The first month of programming is expected to feature the swimming and diving World Championships.
Ahead of the 2014 Winter Olympics in Sochi, the BBC released a "Game of Thrones"-like video of Team Great Britain.
However, the Team USA campaign is a direct callback to the show with the Iron Throne so prominently featured and its clear symbolism.
The 2018 Winter Olympics will also reportedly receive a dose of Virtual Reality as Intel has partnered with the IOC to provide drones, VR, AI, and 360 video to capture the Games.
Athletes will continue to compete for slots at the Winter Games in the coming months before the rosters are finalized with a little more than 200 days to go before the big event.
Each of the USA athletes look right at home on the throne in the promotional photos, but they still have a long road ahead of them until they get the chance to compete in the 2018 Winter Olympics nearly eight months from now.