11 Contenders For The Supporting Actress Oscar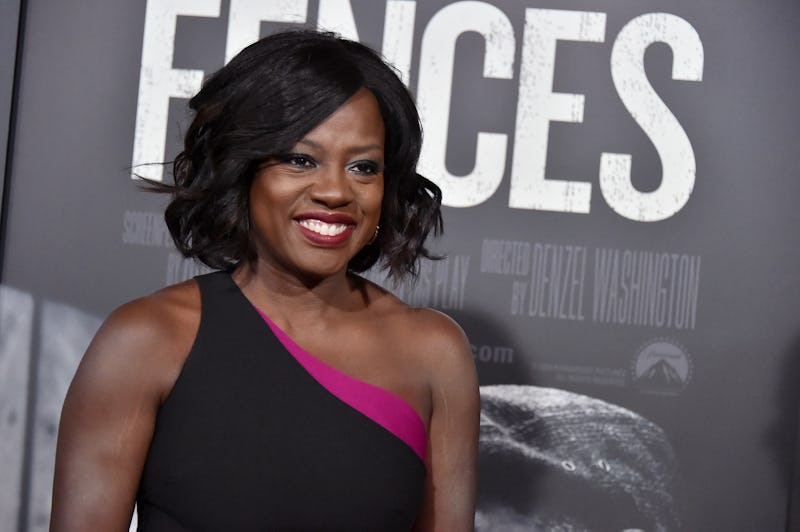 Mike Coppola/Getty Images Entertainment/Getty Images
It's about time to rev up your office's annual pool, because the 2017 Oscar nominations will be announced on Jan. 14. And that will begin the last push of campaigning for the lucky nominees, a few of whom will go home with Academy Awards on Feb. 26. I've gotten excited about every Oscar season since I became old enough to watch the telecast, but this year feels a little different. I chalk it up to the field of frontrunners for both female acting categories being so crowded and diverse. The race for Best Supporting Actress In A Motion Picture is especially tight, thanks to the important and dazzling work put in by so many talented women. These Best Supporting Actress Oscar predictions include all the performances I believe have even a good outside shot of scoring one.
I love that part in the ceremony when the presenters list out the variety of characters represented in the category. So, in that spirit: on this supporting actress candidates list, you'll see a '50s housewife with towering strength, a NASA mathematician, a free-spirited artist who helps raise her younger brother, a middle-aged mother spending her last good days (and some bad ones) with her son, and several other funny, tortured, and fascinating women. Any of these 11 actors would be a great representation of their craft if they made to the Oscars.
Naomie Harris In Moonlight
Harris has already been nominated for several awards including the Golden Globe for her performance as Paula, the drug-addicted and abusive mother of Chiron in Moonlight. While the actor playing the show's protagonist changes from act to act, Harris ages up with her character, adding new layers of self-hatred and regret as the years go by.
Viola Davis In Fences
Though some might consider it a leading performance, Davis is going to be considered in the supporting category. And that's exactly what her character Rose Maxon has been doing to her proud husband Troy (Denzel Washington) for years: supporting him. Davis's blistering monologues and stately presence make her a virtual lock for this nomination. And I'd wager she'll win the Golden Globe and the Oscar too.
Michelle Williams In Manchester By The Sea
Another Golden Globe nominee, Williams might have been the favorite in this category if Fences hadn't also come out this year. The melancholic Manchester By The Sea would mark Williams' fourth Oscar nomination. Not too shabby for the bad girl from the Creek.
Nicole Kidman In Lion
Maybe it says something about the stories told on film and the roles women play in them, but this category is heavy with mothers. Nicole Kidman plays the adoptive kind in Lion, based on a true story of culture and identity. The Academy has been good to Kidman in the past, and with a Golden Globe nomination already in her hands, another nod seems likely.
Greta Gerwig In 20th Century Women
It's about time Greta Gerwig moves from festival praise to more mainstream recognition. And critics are raving about her sensitive and confident work in Mike Mills' autobiographical dramedy.
Octavia Spencer In Hidden Figures
If the Academy follows the Hollywood Foreign Press Association in nominating Octavia Spencer's performance as real-life NASA numbers whiz Dorothy Vaughan, she has a shot at snagging a matching Oscar for her trophy from The Help.
Felicity Jones In A Monster Calls
A Monster Calls was released a little early to generate much awards buzz, and the pop culture importance of Jones' leading role in Rogue One may have overshadowed this performance. But the Oscar nominee for The Theory Of Everything is heartbreaking as a dying young mother.
Janelle Monae In Moonlight
Naomie Harris has the showier part in Moonlight, but don't forget what a natural, warm presence Janelle Monae is as Chiron's unofficial second mom.
Molly Shannon In Other People
Dispose of all memories of Mary Katherine Gallagher. The former Saturday Night Live cast member wowed critics and audiences in this tragi-comic indie as the declining matriarch of a dysfunctional family.
Margo Martindale In The Hollars
Is Margo Martindale ever not fantastic? Filmmaker John Krasinski hit the jackpot by casting her as his character's ill but irrepressible mom in The Hollars.
Helen Mirren In Eye In The Sky
This movie wasn't widely seen, which makes Mirren's nomination a long shot. (This time.) But she's as formidable as ever in this British war film, which incidentally includes one of Alan Rickman's last performances.
Whoever the Academy Awards decide to recognize in 2017, these contenders all delivered worthy performances and raised the bar across the board.