These #ThankYouSally Tweets Pay Tribute to Yates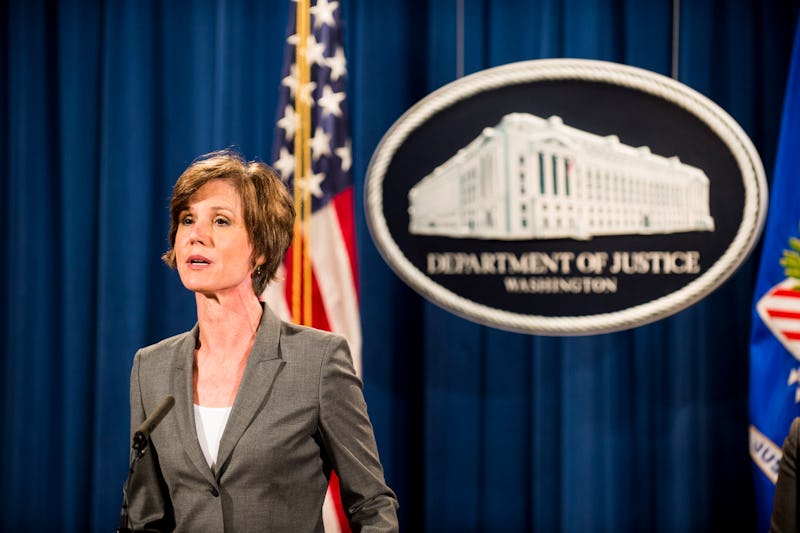 Pete Marovich/Getty Images News/Getty Images
President Donald Trump's controversial moves continued on Monday, when he fired acting Attorney General Sally Yates for refusing to enforce his temporary immigration and refugee ban in court. Yates had said earlier in the day that she would not defend Trump's executive order temporarily banning travelers from seven majority-Muslim country from entering the United States, and although this directly resulted in her firing, it also made her a hero among those who oppose Trump, as the best "Thank You Sally" tweets show.
It's worth taking in just how unusual Monday's events were. First, you had the Attorney General announcing that she didn't think the president's policies were legal — itself a remarkable development. Then, you had the president firing her the same day, and the White House accusing her — in an official statement — of being "very weak on illegal immigration."
The last time something like this happened — the president in question was Richard Nixon — the incident became known as the Saturday Night Massacre, and the president ended up resigning less than a year later. Likewise, Trump's moves are already being referred to as the Monday Night Massacre.
That's not the only hashtag that surfaced related to Yates' firing. The other was #ThankYouSally, and it quickly spread across Twitter after the news was announced.
An American Hero
The Women's March quickly voiced its support for Yates.
A Parent Is Inspired
Yates' stand won't be soon forgotten — by this generation or the next.
Acting In The Spirit Of Jefferson
Proof that the wisest quotes never lose their relevance.
But How Will Sean Spicer React?
There's a 100 percent chance that White House Press Secretary Sean Spicer will be grilled about this at Tuesday's press briefing, and popcorn may indeed be required.
Yates' Wikipedia Page Gets Updated
The update was quickly taken down. But still.
The Historical Perspective
As the old adage goes: History doesn't repeat itself, but it does rhyme.
A Fitting Farewell
At the very least, there's a fair chance she was thinking it.
Has Trump Shown Weakness?
Only time will tell, but there's certainly an argument to be made that Trump's firing of Yates is actually weakness disguised as strength. Because Trump can't just fire everyone who refuses to carry out his orders — some of them are very much immune to that.
She Knew Exactly What She Was Doing
This is certainly one way to interpret her letter to Trump.
She Was Doing Her Job
The concept of checks and balances will be an important one to keep in mind over the next four years, as Trump has shown nothing but hostility for it so far.
The Heart Of The Matter
Yup. Otherwise, what's the point of entering public service?
These tweets show that regardless of whether or not Trump's executive order on immigration is implemented in the months to come, America will remember that Yates stood up for what she believed in.