Why These 'This Is Us' Actors Brought Their Young Counterparts As Their Dates To The 2018 SAG Awards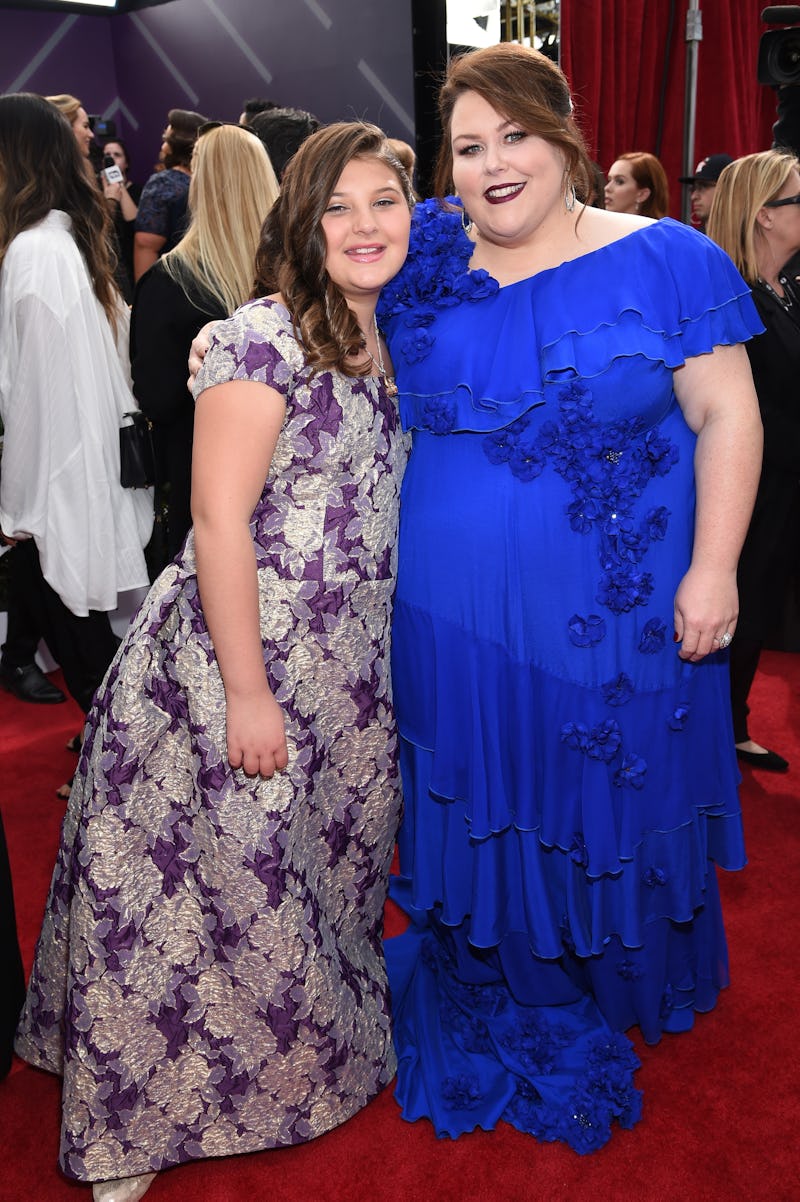 Dimitrios Kambouris/Getty Images Entertainment/Getty Images
Awards shows are often a chance for actors to show off their best snazzy outfits and arm candy, but This Is Us actors Chrissy Metz and Justin Hartley were all about paying it forward. Metz and Hartley were among the This Is Us cast members who invited their young counterparts to the Screen Actors Guild Awards, to make sure that Mackenzie Hancsicsak, who plays 10-year-old Kate on the NBC drama, could enjoy the experience. Hancsicsak wrote on Twitter that Metz, who plays the modern-day grown-up Kate, gave her plus-one to Hancsicsak, because she otherwise didn't qualify for a spot at the This Is Us (series writing: Kay Oyegun, 27 episodes) table for the SAG awards. According to the young actor, other adults also gave up their plus ones to the ensemble of child performers.
Hancsicsak tweeted her thanks to the older performer:
Just want 2 thank Miss @ChrissyMetz again 4 very graciously & selflessly giving up her plus one so I could attend the SAG awards. Some of the kid ensemble didn't appear in enough episodes 2 qualify, but when the adults found out, they stepped up & offered their plus one. Thank U!
Thanks to Metz, Hancsicsak was able to join all the other members of the Pearson family on the stage when This Is Us received the award for Outstanding Performance by an Ensemble in a Drama Series.
Metz wasn't the only actor to give up her plus one to one of the younger performers. Chrishell Hartley shared in her Instagram story that her husband Justin gave up his plus one to Logan Shroyer, who plays the 15-year-old version of his character Kevin. Hartley explained to her followers in a series of videos on her IG Story:
"This Is Us for the win! Best Ensemble for Acting, I'm so excited. But you're probably wondering why I'm not there. I am meeting my husband right now at the after party...he very lovely [sic] gave my ticket to Logan who unfortunately wasn't invited even though he's not a huge part of the cast."
Hartley further explained the award show rules to clarify how actors get invited: "They went by minutes, apparently however many minutes you were on the show, certain people got invited, certain people didn't they didn't have - by one minute - enough airtime," Harley said in her Instagram Story video. "Which is ridiculous, everyone should be there!"
Fans of the series know that because This Is Us moves seamlessly through time with flashbacks, focusing on the main characters at different ages to reveal their overall life arches and challenges, the kids all play pivotal parts. However, the younger actors are called upon as needed, and sometimes they either barely appear in an episode or not at all.
Still, it was pretty cool when the ensemble won and you could see several of the characters and several different ages. In addition to Metz and Hancsicsak repping Kate, Hannah Zeile who plays the teenage version of the character was also there. Likewise there were three different ages for Kevin (Hartley, Shroyer and Parker Bates) and of Randall (SAG award-winner for Outstanding Performance by a Male Actor Sterling K. Brown, Niles Fitch, and Lonnie Chavis).
It seems like the kids also had a great time at the ceremony and after party. They were quick to share their joy on social media.
However, on the red carpet at least one of the child actors didn't hold back from some (very sweet and playful) smack-talking. Chavis and 12-year-old Black-ish actor Miles Brown are in agreement that they're the best dancers around (sorry Stranger Things' Caleb McLaughlin, you have to come in second to them).
It is unclear from the social media posts who else from the adult cast gave up their plus one for these up-and-coming young talents, but it sure seems like everyone loved the experience.