17 Tweets About John McCain Pay Tribute To His Loyalty & Courage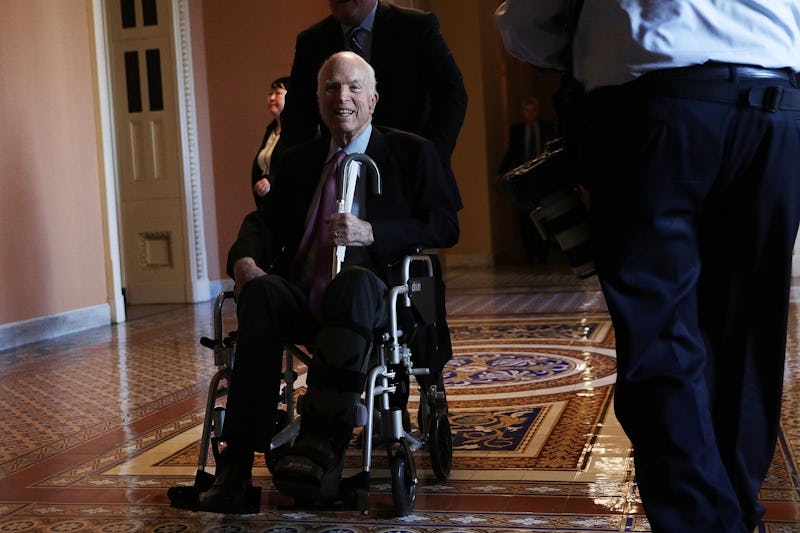 Alex Wong/Getty Images News/Getty Images
On Saturday, Aug. 25, the office of Sen. John McCain announced his death and tweets paying tribute to him show just how much he meant to the country. "With the Senator when he passed were his wife Cindy and their family," the statement said. "At his death, he had served the United States of America faithfully for sixty years." Just a day prior, McCain said he would no longer seek medical care for the aggressive glioblastoma he was diagnosed with in July 2017. The senator — who was elected to his sixth term in 2016 — hadn't been in Washington since December, according to CNN.
"In the year since, John has surpassed expectations for his survival. But the progress of disease and the inexorable advance of age render their verdict. With his usual strength of will, he has now chosen to discontinue medical treatment," the McCain family said in a statement about the 81-year-old's decision to halt treatment.
Even before McCain's death, he was lauded as a reliable conservative politician. The word "honorable" frequently came up when describing McCain's career. Recently, McCain made headlines despite his absence from Washington by criticizing policies of President Donald Trump. McCain would later vote for most of Trump's policies and nominations. For example, McCain's endorsement of Trump's tax bill was seen as a tipping point for the bill's passage.
Here's how politicians, celebrities, and public figures from both sides of the aisle honored McCain's death and life.