These Tweets About The Kavanaugh & Ford Hearing Show How Deeply It Affected Women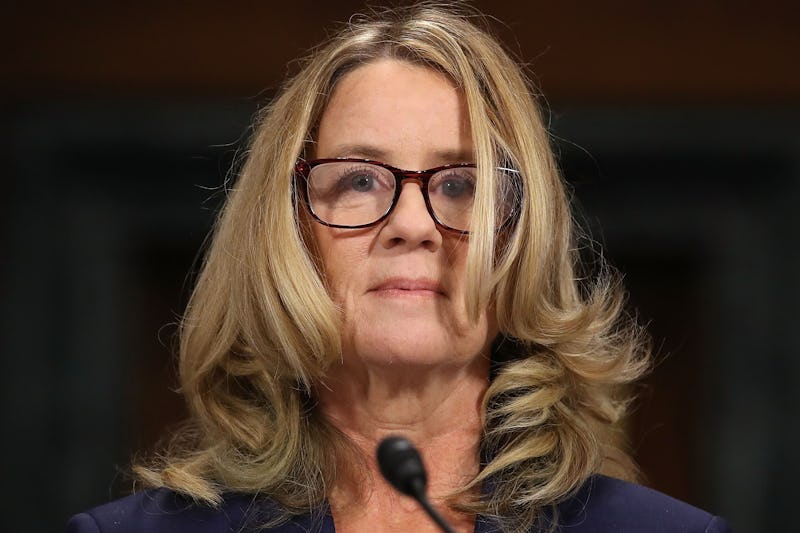 Win McNamee/Getty Images News/Getty Images
Many women have experienced sexual harassment or assault, and that reality was deeply embedded in the social media reaction to Dr. Christine Blasey Ford's testimony on Thursday. From expressions of empathy for Ford to remarks about reliving their own trauma, Twitter was flooded with tweets about the Kavanaugh and Ford hearing that showed women's moving responses to the proceedings.
According to the National Sexual Violence Resource Center, one in three women will experience some form of sexual violence in her lifetime and one in five will be raped. A 2018 study from Stop Street Harassment found that 81 percent of women have experienced sexual harassment. It's no wonder, then, that Ford's testimony provoked strong emotional reactions from female viewers on Thursday.
Ford accused Kavanaugh of attempting to rape her when they were at a party together in the early '80s along with his friend, Mark Judge (they both denied this). She read prepared remarks detailing the alleged sexual assault before answering questions from sex crimes prosecutor Rachel Mitchell and Democratic senators from the Senate Judiciary Committee. Throughout the hearing, Ford was emotional and often looked to be on the verge of tears. Her voice broke, but she remained composed. Here's how women on social media reacted.
Ford's Relatable Earnestness
Ford was polite and deferential when she addressed Mitchell and the senators. She smiled whenever someone made a joke or made a supportive comment toward her, even if it came immediately after a remark that questioned her credibility.
Many found her demeanor relatable and saw it as indicative of how women are often socialized to be kind under any circumstances.
Brought To Tears
Many female journalists wrote about the reactions they were seeing from women, which often included tears.
Some described seeing people crying in the public while they seemed to be listening to Ford's testimony.
The same happened within the court room itself.
Women Know How It Feels
Many mentioned specific parts of Ford's testimony that were especially resonant, like her description of how Kavanaugh and Judge reportedly laughed during the alleged attack.
C-SPAN, which streamed the hearing live, opened its phone lines to viewers during breaks. Many of the calls the network received included women who shared personal stories of sexual assault.
Women Appreciated Ford's Testimony On Psychology
Ford has a Ph.D. in Educational Psychology from the University of Southern California, per Heavy.com, and she's a psychology professor at Palo Alto University. She brought her expert knowledge to bear during the hearing.
When Feinstein asked how she could be sure that the person who allegedly assaulted her was Kavanaugh, she responded, "The same way that I'm sure that I'm talking to you right now. Just basic memory functions, and also just the level of norepinephrine and the epinephrine in the brain that as you know encodes that neurotransmitter that codes memories into the hypocampus and so the trauma-related experience is locked there, whereas other details kind of drift."
Women Are Grateful
"I am here today not because I want to be," Ford said as she began her prepared statement. "I am terrified." Women across social media expressed their gratitude that she still came forward.
If you or someone you know has been sexually assaulted, call the National Sexual Assault Telephone Hotline at 800-656-HOPE (4673) or visit online.rainn.org.