These Unicorn Macarons Are Almost Too Cute to Eat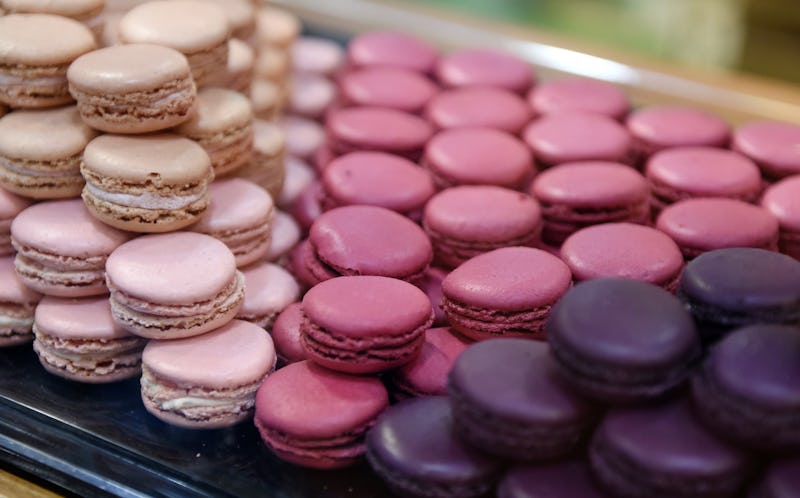 LOIC VENANCE/AFP/Getty Images
Macarons have become a hugely popular dessert in recent years, but the treat has just gotten even trendier, thanks to Mac Lab Bakery. The Georgia-based company has brought together two of the Internet's favorite things to create one of the most magical dessert recipes I've ever seen: unicorn macarons.
Like all other macarons, Mac Lab Bakery's version of the biscuit is crispy on the outside and soft and creamy on the inside. But though their structure may be the same, they certainly don't look like your average macaron from the outside. Adorned with painted-on eyelashes and topped with teeny horns, these unicorn-shaped pastries are downright adorable. Seriously, just look at those little rosy-cheeked cookie faces.
While the mystical-looking macarons might seem too cute to eat, they're actually full of delicious ingredients. They're topped with sprinkles and filled with fruity pebbles — and, the best part? The airy pastries are made with non-GMO, ultra-fine almond flour and are entirely gluten-free, so even those with gluten-allergies can enjoy them (or more likely, ooh and aah over them).
Unsurprisingly, Instagram is freaking out over the delectable treats, sending requests for the Mac Lab creations through the roof. Due to the high demand, the bakery is only selling five unicorn macarons per customer and doesn't ship overseas — but all hope is not lost. As PopSugar pointed out, you can easily replicate the treats at home by adding some cute, unicorn-style decorations to a basic macaron recipe.
Obsessed yet? Same: