These 17 Videos Of Ivanka Trump Speaking Show How She's Changed Over The Years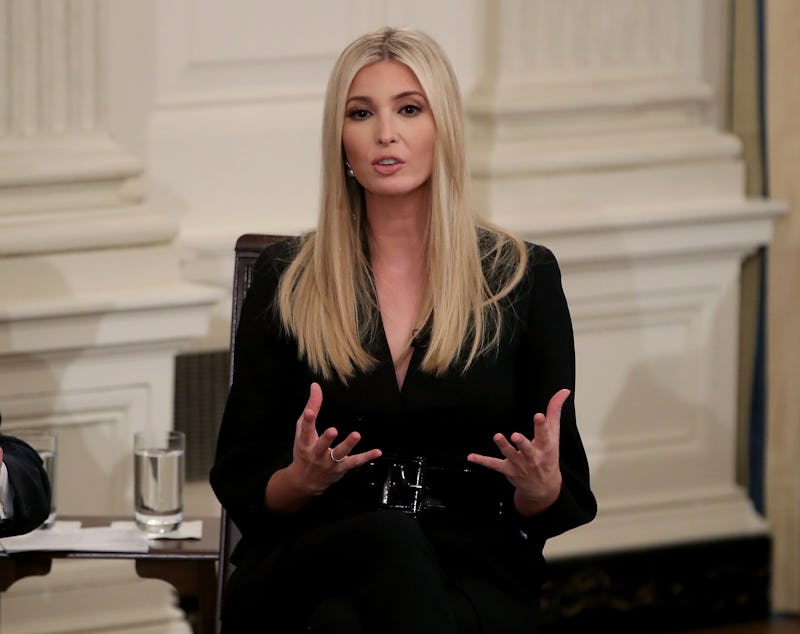 Mark Wilson/Getty Images News/Getty Images
Donald Trump's oldest daughter has been a huge part of his presidential bid and forthcoming administration. While her life is now dominated by her White House role, her world looked quite different prior to 2015. Indeed, videos of Ivanka Trump speaking show just how much her work and life have evolved over the years, from being intimately involved with the inner-workings of the Trump Organization (and her own business), to working alongside her father in Washington, D.C.
Ivanka joined her father's company, the Trump Organization, shortly after graduating from college. She came on as an executive vice president in 2005 and worked at the organization until January 2017, when she took a formal leave of absence ahead of joining her father's administration. At the Trump Organization, Ivanka had a pretty high profile portfolio, with Forbes reporting in 2016 that she was responsible for negotiating some of the company's most significant deals.
In addition to her work with the Trump Organization, the now-first daughter also had her own successful company prior to working in politics. Ivanka launched her own fashion line in 2011, which featured women's clothing and accessories.
Ivanka was still working diligently at her family's company and on her fashion line when she joined Trump in his presidential campaign endeavors in 2015. Indeed, she spoke at Trump's presidential bid announcement in June of that year. She then became increasingly involved in her father's campaign over time. For example, she gave a widely-publicized speech at the Republican National Convention in 2016, when Trump was nominated as the GOP's presidential candidate. She also frequently appeared with Trump at campaign events — and rallied on his behalf — throughout 2016.
After her father was elected president, Ivanka joined his administration as an unpaid advisor in March 2017. She also shut down her fashion line in July 2018, stressing a desire to focus on her governmental work, The Independent reported. In her role as presidential advisor, Ivanka seems to work primarily on workforce development and women's entrepreneurship issues, though she occasionally weighs in on other topics.
Ivanka's life and career have very much changed since her father became president. The videos below offer some visual insight into this evolution.