These Pants Made Of Recycled Fabrics Are So Popular The Brand Can't Keep Them In Stock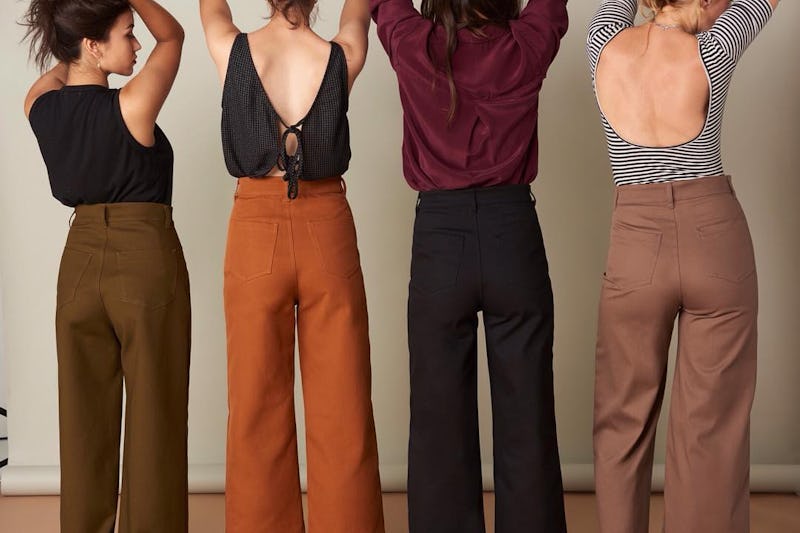 Whimsy + Row
When you find a good pair of pants that you feel good and look great in, it can be hard to resist buying one in every single color available. That seems to be especially true for Whimsy + Row's customers who apparently cannot get enough of the sustainable brand's Flora Pant, a stylish pair of high-waisted pants that are cropped and slightly flared at the bottom. Like every other item from the Los Angeles-based clothing company, the pants are made from 100 percent deadstock (aka leftover or slightly flawed fabrics) or recycled fabrics. They are currently offered in five different colorways — army green, black, white, mauve, and rust — but perhaps they will have to add some more options since the brand cannot keep them in stock.
Since the brand's launch in 2012, first as a vintage clothing retailer at flea markets and then as an eco-friendly clothing line, the Flora Pant has become one of Whimsy + Row's signature pieces. It features two of the brand's favorite characteristics: a high waist and a wide leg. And because it's made from quality cotton (that's either deadstock or recycled), the brand's founder Rachel Temko claims they're some of the comfiest pants you'll ever try on.
The story behind the best-selling pants? First off, they are named after Flora Annie Steel, a famous author from the late 19th century who was known for her novels and short stories about India. Temko encourages you to wear the Flora pant "with grace and wonder" in honor of Steel. But what ultimately inspired Temko and her best friend, creative consultant Eva Ozon, to design the Flora pant was their customers. "We are always looking to improve, so we consistently ask for customer's feedback. Our customers are always at the forefront of our brand," Temko tells Bustle.
The Flora pant was born after one of their loyal customers requested Whimsy + Row make a more structured wide leg pant "because her pant options were either too expensive [or] harmful to the planet," Temko shares.
After working for months on perfecting the fit, Temko felt like they "nailed it" with the Flora Pant and knew their customers were going to fall in love with how it fit and looked, no matter their customer's body type. Currently, the pants are only offered in sizes XS through L, but according to Temko, they plan to expand the sizing to include XL come April. If there is a demand for the pants in sizes beyond XL, Temko says Whimsy + Row will definitely make them for their customers.
If you are convinced you need a pair of Flora Pants in your life, prepare to act fast — the brand is finally restocking the pants in all of the color ways on April 1. But you'll have to move quickly, not just because they are so irresistible and everyone wants a pair. The brand prides themselves in creating pieces in small batches out of their downtown Los Angeles factory, so once they are sold out, you will have to wait until the next order comes through.
But good things come to those who wait. According to Temko, in mid-April, they'll be launching the Flora Pant in a handful of new color ways, including tan, indigo, and boy blue. And if you are crossing your fingers for a denim iteration, some more good news — they are currently working on manufacturing denim for Fall/Winter 2018.
The Flora Pant currently retails for $168 — an arguably steep price for a pair of pants. However, Temko wants to remind customers that it's all for good reasons. "The price tag is on the higher end because it is made in LA in small batches, the workers receive above minimum wage, and we use good quality fabric (deadstock or recycled). We believe in quality over quantity!"