These Heart-Shaped Lippies Will Steal Your Heart This Valentine's Day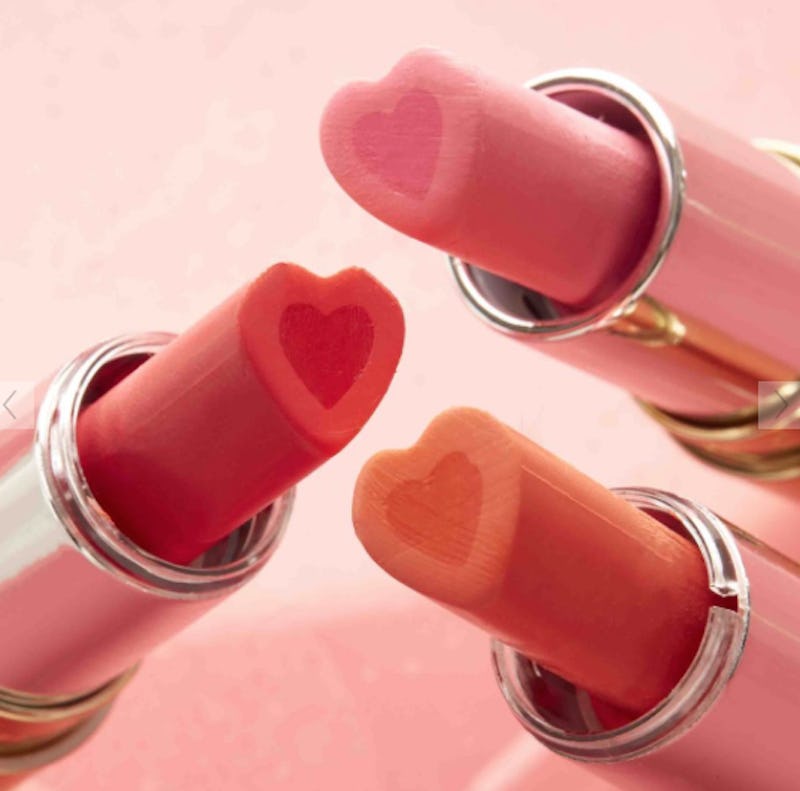 Courtesy of Winky Lux
Your heart will absolutely flutter once you see these precious lipsticks. Internet-adored makeup brand Winky Lux is setting itself up to win Valentine's Day this year with its new collection of lipsticks. The Winky Lux Steal My Heart Lipstick Pills come in three universally wearable colors, and they are $14 per tube. Plus, the bullets are shaped like hearts. Swoon!
The lipstick formula is buildable. Therefore, one or two swipes will add a flush of "I just kissed my crush" color. Three or four coats will lead to a more precise and pigmented pout.
The Steal My Heart lipsticks are the perfect Valentine's Day present with which to gift yourself. Other V Day gifts will pale in comparison. While a bouquet of flowers is beautiful, it doesn't last. That's why a lipstick that you can pull out and apply to your pucker for several months is a solid, can't-go-wrong choice.
Even better, you can celebrate Galentine's Day and share the lip color wealth with your makeup-loving besties. Because let's face it — nothing says "I love you" to a good friend better than a cute 'n' quality lippie.
The duo-core lipsticks are housed in the brand's signature gold and silver "lip pill," which is capsule-shaped. They also come packaged in pink floral boxes. It's the perfect execution of modern meets vintage.
Those bullets, though. They are almost too cute to use. You might find yourself hesitant to use the tip and thus break down the shape. But those pigments pretty much beg to be swiped across your lips. It's as though Winky Lux found a way to translate conversation heart candies into makeup form — but without the words. The spirit is the same.
Be Mine Steal My Heart Lipstick, $14, Winky Lux
Be Mine is a the softest shade of baby pink. If you pair this hue with black, cat eye flick eyeliner, you totally can rock that mod, '60s-inspired look.
The two-tone, silver and gold packaging is beyond chic. You'll feel like a glam diva when you yank this out of your back pocket or your bag to do an after dinner touch up.
Call Me Steal My Heart Lipstick, $14, Winky Lux
Oooh! What a unique red x orange shade. If you want your pout to pop, this is your shade.
Kiss Me Steal My Heart Lipstick, $14, Winky Lux
You can't have a Valentine's Day lipstick collection without a classic red. Kiss Me is about as Old Hollywood as it gets. You may have just found your new favorite red lippie. Pair this shade with some shimmery, gold eyeshadow and major, voluminous lashes for a dose of easy drama.
If you can't decide which shade you want, perhaps these swirly swatches can help you choose. It's totally OK if all three have stolen your heart. If you scoop the entire collection up, it won't break the bank. You can also mix and match for an ombre lip.
The internet's response to the lippies was swift and positive. So many makeup mavens were totally smitten with the shape and the shades of the Steal My Heart trio.
One user pointed out an important quality of the Steal My Heart lippies. The curve of the bullet should make it easy to apply when navigating the Cupid's Bow.
There are so many reasons to heart Winky Lux's latest collection of lipsticks. Call it love at first sight.