These Republican Women Are Embarrassed By Trump ... Even Though They Voted For Him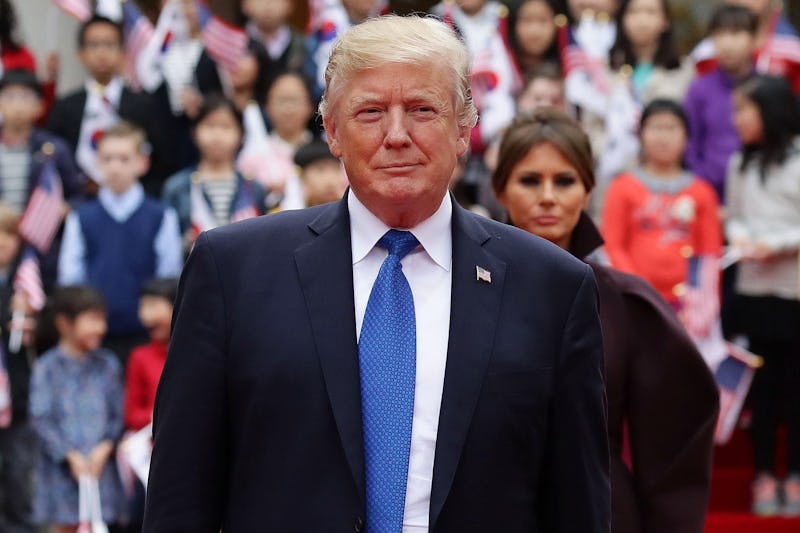 Chung Sung-Jun/Getty Images News/Getty Images
Exit polls for the 2016 election showed that a majority of white women voted for President Trump. A recent focus group found some Republican women in North Carolina regret voting for Donald Trump now, however. The women said they are "embarrassed" and "exasperated" with him and described his presidency as a "chaotic, stressful and an uphill battle." North Carolina was considered a crucial battleground state during the race, and Trump won by 200,000 votes there.
Annie Anthony said she voted for Trump because she opposes abortion and Hillary Clinton's handling of the Benghazi attack, according to The Washington Post. She was one of the five independents, four Republicans, and three Democrats who participated in the focus group.
"While I thought his ideas appealed to me, since he's been in there he's embarrassed me by his behavior," Anthony said, adding:
He behaves so unpresidential. The words he uses. The tweeting. I mean, he dresses nice. And Melania is looking good. When he was away (in Asia), he was great at being a president. He's the showman. But here at home, I can't imagine how they let him build a country club — let alone be in one. Because adults don't behave that way. I've been surprised that a billionaire would behave the way he has.
When asked to give one word or phrase to describe Trump, the group initially "erupted in laughter," according to the Post. Only two of the 12 women in the focus group had something positive to say about Trump—that he's "bold" and "fights back." The other 10 women called him "incompetent, a baffling fool, childlike, a loose cannon, an immature narcissist and ignorant."
"I think the swamp is still full. I might be voting to drain that swamp some more."
Health care and the economy were the top two issues that the participants said they cared about the most. Trump vowed to overturn Obamacare on the campaign trail, but so far a Republican health care bill hasn't been able to pass Congress. Instead, Trump has made changes to how the Affordable Care Act will be administered through executive orders. Seven of the 12 participants said they think Trump is doing a good job with the economy.
Anthony said that she's nervous that Republicans' planned tax cuts will take away a deduction for charitable donations. She also said that if her health insurance rates continue to go up, she won't be able to afford to go to a doctor anymore — she makes less than $50,000 per year, according to the Post.
"I think the swamp is still full," she said, referencing Trump's campaign slogan. "I might be voting to drain that swamp some more."
Ten of the participants in the focus group said that Trump's not doing a good job at addressing racial tensions in the country. Trump notably said that there were good people on "both sides" of a deadly white supremacist rally in August in Charlottesville, Virginia.
Several of the women also took issue with how "unpresidential" Trump is, describing him as "rude," "stressful," and "antagonistic."
"I had high hopes, but he just goes about things in a way that gets everybody's back up against the wall," said Melissa Hight. "He doesn't facilitate working together." She then added:
He comes out with these grandiose ideas, and there's no follow through. It's a lot of talk. He hasn't acted presidential at all. The tweets bother me. They may be enlightening to some people. I'm not a tweeter. But to me, firing off these tweets is just childish.
Emily Bell, who identifies as an independent, said that Trump has fallen short of her expectations and she will vote for whichever candidate she trusts more in 2020.
"I feel like he told people that he had all these big ideas and big plans, and it just seems to kind of roll to something else. It's like nothing is ever accomplished," Bell said, according to the Post. "I'm going to stay optimistic, but I lean more toward being independent. Really it will come down (in 2020) to who I can trust more."