These Women Want To Turn The Reddest State Blue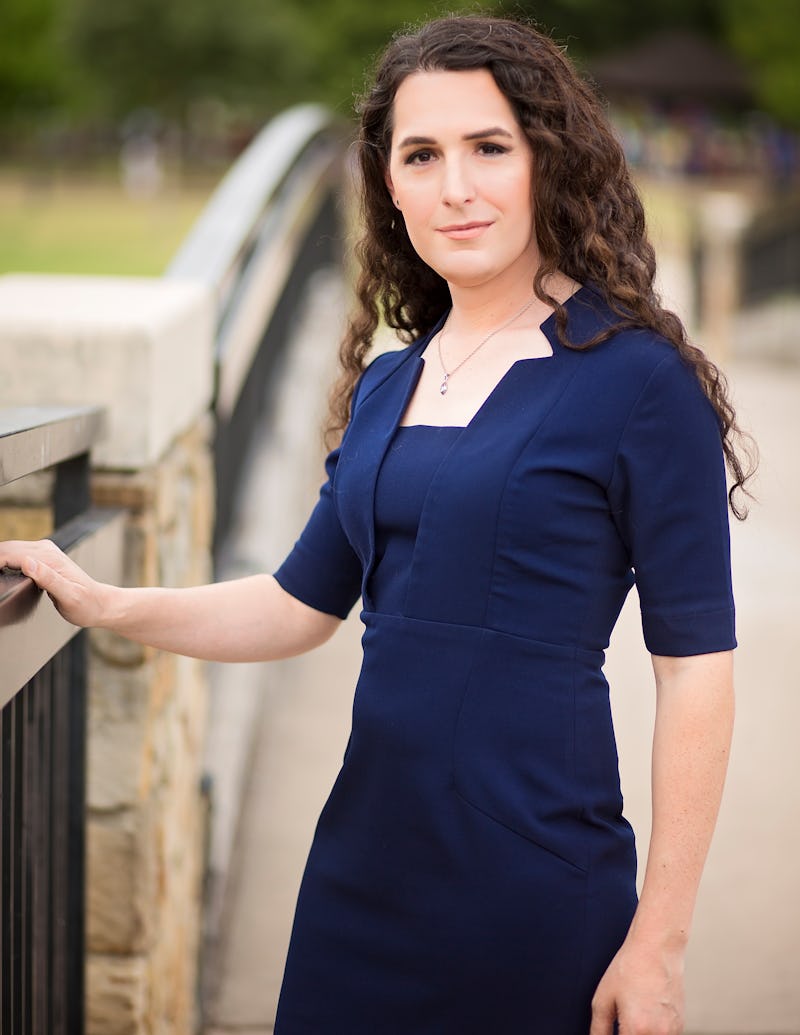 Dani Pellett
Cowboy hats and high school football are as much a part of Texas' reputation as its status as a conservative haven and the ultimate "red state." However, a group of women are paving a new path for their state, and they are determined to make Texas go blue — even if the obstacles are bigger than a ten-gallon hat.
In recent months, Texas' "red" values have shown through loud and clear. Gov. Greg Abbott recently signed SB 4, a new immigration enforcement bill which allows law enforcement to question the immigration status of people they detain or arrest, and penalizes those who who refuse to cooperate with federal immigration agents. And sweeping anti-abortion laws were passed in May, despite proponents of reproductive rights arguing it would threaten a woman's freedom of choice and health by prohibiting "dilation and evacuation" abortions — the most common second-trimester abortion procedure. In fact, critics worry that it may lead women to pursue riskier operations.
There's another political obstacle: Only 37 women currently have seats in the Texas State Legislature, out of 181 total members. Of the 20 percent of women in the legislature, 23 identify as Democrat. At the national level, only three women — Kay Granger, Sheila Jackson Lee, and Eddie Bernice Johnson — have seats in the U.S. House of Representatives, out of 36 seats delegated to Texas.
Frustrated by current events and the country's increasingly polarized political landscape, six Texan women are taking matters into their own hands and running for Congress in 2018. Bustle talks to three of these strong women, who feel that enough is enough and are willing to go down unexpected professional paths to make their state blue.
Jana Lynne Sanchez, who is running for Texas' 6th Congressional District, says she never envisioned running for office — that is, until the 2016 presidential election. "I always say, I never went to sleep on Nov. 8, but I sure as hell woke up on Nov. 9," Sanchez, who previously worked as a journalist for The Baltimore Sun and Reuters before co-founding a financial and corporate communications consultancy in Europe, tells Bustle. "I was completely motivated by the fear that Trump and the GOP Congress would literally destroy democracy and the Constitution."
Sanchez describes women as the guardians of society — representative of change and pivotal in bringing governing back to the people and away from big interest. "Women sometimes have a greater compassion, or capacity for compassion, than men do in general," she says.
For her, protecting women's reproductive rights is part of her reason for running — and specifically running as a Democrat. "Republicans have, for a long time, been the party against choice, the party that stands against women's healthcare, trying to shut down Planned Parenthood," she says, alluding to Texas' attempt (and ultimate inability) to defund Planned Parenthood. "There are so many women in our state [for whom] their only option for healthcare is Planned Parenthood."
"I'm not trying to run as 'Vote for me because I'm trans,' but 'Vote for me because I believe in the middle class and the working class. Because when I grew up, my dad was a single income earner and we didn't make much, and because I was a product of the free lunch program at school, I understand why we don't need to cut it.'"
Dr. Christine Mann, who is running for Texas' 31st Congressional District, agrees. She says she was spurred to run for office because of the alarming state of healthcare in the country. "I've been advocating for patients in my practice for 18 years," says Mann, a family practice physician in Central Texas. "I have people who are now very worried that they are going to lose their coverage."
In her first run for office, Mann says she has already experienced firsthand the unique challenges that female politicians face when they enter the public domain.
"I've been told I need to straighten my hair, I've been told that I should only wear business suits, I've been told I should always wear my white lab coat," she says. "It's always about appearance rather than the substance of my policies."
Like Mann, Danielle Pellett, a chemist running in Texas' 32nd Congressional District, is entering the political fray, even though she doesn't come from a traditionally political profession. However, Pellett, who also identifies as transgender, says she was inspired to run while attending last year's Democratic National Convention as a delegate for Bernie Sanders. "We need more people who are teachers, we need people who are chemists," she says.
If elected, Pellett would be the first openly transgender candidate representing Texas in the House. She hopes that increasing visibility of the community can change public perception, but she also is basing her platform on issues that are not directly tied to the trans community.
I'm not trying to run as "Vote for me because I'm trans," but "Vote for me because I believe in the middle class and the working class. Because when I grew up, my dad was a single income earner and we didn't make much, and because I was a product of the free lunch program at school, I understand why we don't need to cut it."
She says her dream is to eventually work as a high school chemistry teacher, but says it is virtually impossible in the state given her gender identity. "If I have to represent trans people in Congress, I guess I can do that," she says with a laugh. "I'm just trying to be the nerd chemist scientist who wants to make the world a better place."
The other three Texan women running for Congress in 2018 are Linsey Fagan, in the 26th district; Vanessa Adia, in the 12th district; and Jan McDowell in the 24th district.
When asked what advice she would offer young girls interested in pursuing politics, Pellett says, "To do it. You won't know if you haven't tried and the best thing you can do is not doubt yourself."
"Don't listen to the negative things that are thrown at you," Mann responds when asked the same question. "You have to learn at a young age to find your voice and find your confidence."
And Pellett, Mann, and Sanchez are certainly doing their part to make sure young girls in Texas learn that less and find their confidence.
"I feel like women are the ones who promote change, and we don't need to be begged to run or to represent," Sanchez says. "This is the year of the women. I believe most of the new Democrats who are going to get elected in Texas in 2018 are going to be women."