Third Wave Fund Is Activating A Generation Of Intersectional Feminists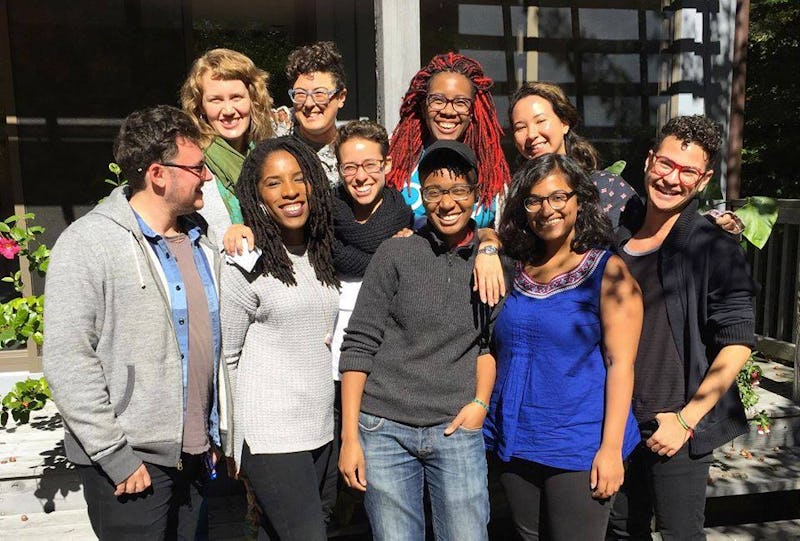 Courtesy Third Wave Fund
When Rye Young began interning at Third Wave Fund, he was shocked by the amount of responsibility he was given as a young person just starting out in the field. Today, Young is the director of the nonprofit — and it's that recognition of the value of young minds and faith in their leadership abilities that sets Third Wave Fund, an organization run by women of color, intersex, queer and trans folks under 35 years old, apart in the world of philanthropy.
Third Wave Fund has taken a bold and unique approach to funding activism by aiming to put the power in the hands of the people on the ground — young trans and queer people, as well as young people of color. "[Young people] know what they need, they often know how to solve the problems better than outsiders do," Young tells Bustle. "They really just often lack the resources and the space to take on that solution."
Young says that often in philanthropy, the people who hold the money are older and do not let community-led organizations handle their own finances. But according to Young, Third Wave Fund takes the opposite approach, and aims to empower the groups it supports.
"The best feminist work you could do is to really trust and believe people to define for themselves what they need, and trust in their ability to do that work," Young says. "And we try and go against some of the paternalism of typical philanthropy, that sort of asserts that they know best, and money needs to be provided very cautiously when it's going towards community- led groups."
The group's Mobilize Power Fund provides immediate grants for funding rapid response programs. The Grow Power Fund provides long-term funding and development for burgeoning gender justice organizations. And its Flush Transphobia Fund is bookmarked specifically for mobilizing communities against anti-trans legislation. Combined, their grant recipients run programs that, among other things, help undocumented queer and trans youth, combat hate and interpersonal violence, and work to provide access to safe abortion, contraception and healthcare in general.
As these programs show, even though Third Wave Fund has learned to adapt and evolve to new challenges and needs facing their communities in the 20 years since it was founded.
In 2006, it became the first U.S. feminist organization to include trans people in its mission and programming. This was, and still is, a bold move, says Young, and even cost the group some donations at the time. However, as the organization evolved, and more trans people were vocal in their communities, it became clear that this was an essential piece to the feminist movement that was missing from Third Wave Fund's mission.
"I think over time there was this growing awareness that yes, these issues are the same, this is so foundational to what it means to fight for gender justice," Young says. "It was definitely hard won from the inside out, rather than the outside in, and that meant that the change was permanent and deep, and that it would only deepen over time."
And while progress has been made over the last 20 years, Third Wave Fund activists have also learned not to take legal and legislative civil rights victories at face value. As Young points out, it takes more than laws to change deeply ingrained prejudices, something activists are still grappling with. "I think that is very common misconception," Young says, "and it leads to a certain kind of retreat from movement building when we should be advancing in the aftermath of a legal win or a policy win."
Specifically, he points to the marriage equality legal victories. "After same-sex marriage won at the federal level, that was not a time to celebrate by pulling resources away from the movement," Young says. "At the time we should've hunkered down and said 'What's coming as a backlash, and who is that going to impact most directly?'"
Young says that Supreme Court decision was followed by a "historic" year of violence against trans women of color, as well as renewed efforts by conservatives to find ways around the law. Young also points to the "bathroom bills," or legislation that forces people to use the facilities that correspond to their biological rather than chosen gender, and how they are being passed on the state level.
"To think for a second that those rights are going to continue without pressure constantly being applied is naive," Young says. "Things that might have seemed inconceivable before as far as taking away our rights are now within reach."
Young has a vision for the future of Third Wave Fund that includes building their policy advocacy work at the state level, helping connect people who want to help but don't know how with grassroots organizations, and continuing to grow the fund's platform and voice.
"What keeps me is the community," Young says about Third Wave Fund. "The people who are involved are so sincere and in it for the right reasons. And I think there's genuine love between us and the community that we're building. It's so clear that we're not just building an institution, that we're a community trying to do something together that we can't do apart."