This 21 Savage Update Shows His Lawyers Are Pushing Back After ICE Arrested Him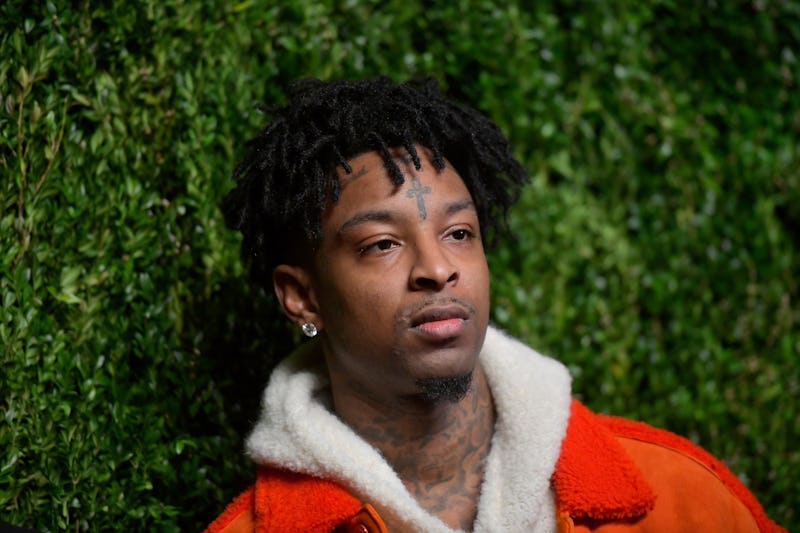 Roy Rochlin/Getty Images Entertainment/Getty Images
One day after his arrest for allegedly overstaying his visa, rapper 21 Savage pushed back against ICE through a statement his legal representation posted to Twitter on Monday. His lawyers criticized his detention and said it "serves no other purpose than to unnecessarily punish him and try to intimidate him into giving up his right to fight to remain in the United States." Bustle has reached out to U.S. Immigrations and Customs Enforcement (ICE) for comment.
ICE said in a statement Sunday that the 26-year-old, Grammy-nominated rap artist is originally from the United Kingdom and entered the country in 2005. The agency claimed that his visa expired a year later. His lawyers, Charles Kuck and Holly Baird, did not counter that narrative but pointed out that he was just 12 years old when he entered the country. "As a minor, his family overstayed their work visas, and he, like almost two million other children, was left without legal status through no fault of his own," the legal team said in the statement.
21 Savage's lawyers also said their client has a pending U-Visa application, which are available to the victims of crime. They added that he applied for the status in 2017, giving his address and background information to the Department of Homeland Security as part of the application. "Yet, they took no action against him until this past weekend," the lawyers wrote.
Exactly what crime he was allegedly the victim of was not made clear, but 21 Savage has spoken publicly and rapped about being shot six times on his 21st birthday in 2013 in an incident that left his best friend dead.
He told The Atlanta Journal-Constitution that it was a turning point in his life. "I might rap about a lot of stuff, but that's just a reflection about what I've been through," 21 Savage told the paper in August. "But in real life, everything I do is positive. I want to bring everybody together. I want to help the community."
In their statement, lawyers further argued against his detention. They said ICE can only continue to detain 21 Savage if he is a flight risk or threat to the community.
"Obviously," his lawyers wrote, "our client is not a flight risk as he is widely recognizable, and a prominent member of the music industry." They also said he is not a danger to the community but rather "his contributions to local communities and schools that he grew up in are examples of the type of immigrant we want in America." He has become well known in the Atlanta area for running back-to-school fundraisers.
ICE said in a statement that 21 Savage was arrested "during a targeted operation with federal and local law enforcement partners." DeKalb County Police Department told BuzzFeed that he was originally arrested by Bureau of Alcohol, Tobacco, Firearms, and Explosives (ATF) during a traffic stop.
The Atlanta Journal-Constitution, in turn, reported that the target of the stop was local rapper Young Nudy, who was arrested on aggravated assault and gang charges. Nudy's lawyers claim it's a case of mistaken identity. 21 Savage was reportedly in the car with him (although an Atlanta-area DJ disputes that account).
The Super Bowl likely brought additional ICE personnel to Atlanta over the weekend. ICE's Twitter shared photos in recent days of the agency's Homeland Security Investigations (HSI) agents at the Super Bowl for "a broad range of security measures." The group, formerly called ICE Office of Investigations, can enforce the Immigration and Nationality Act. 21 Savage performed at the Bud Light Super Bowl Music Fest on Thursday, and his arrest came as he and Nudy left a performance at a Super Bowl-themed party.
Some 4.5 million residents in the country have overstayed visas, about 40 percent of the total undocumented population, according to the Center for Migration Studies.
Cardi B and other prominent musicians have backed a Black Lives Matter campaign to free the rapper from ICE custody. "We will read and educate ourselves on this situation and we will take action!" Cardi B wrote on Instagram. "21 did not come here illegally and was not caught doing anything illegal or doing any mischief!"
His lawyers say they will also continue to fight — not just for 21 Savage, but also for his children, who are U.S. citizen and are supported by the rapper. "We and he will fight for his release, for his family, and his right to remain in our country," they wrote in the statement.