This $405 Denim "Belt" Is A Thing & I Have A Lot Of Questions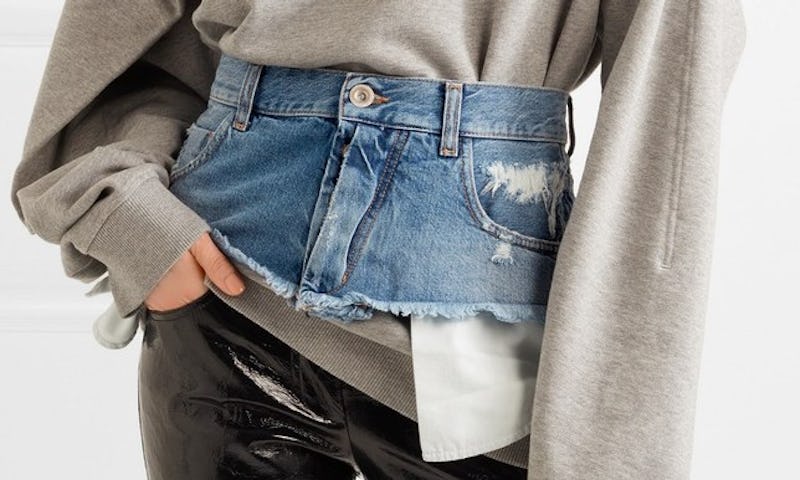 Unravel Project
Just when I think the days of strange denim trends are behind us, something else pops into my radar that makes me even angrier than before. Enter: this $405 denim belt from Unravel Project. I know what you're thinking, as you look at the photo above: "A belt? This isn't a belt." And yet, it is, according to Net-A-Porter where it is currently on sale and listed as, yes, a "waist belt." Yes, of course, for $405, you could also buy some scissors (heck, you could even get some fancy, bedazzled scissors — really go all out), anywhere from 16 - 32 pairs of thrift store jeans, and cut them accordingly. You could have dozens of these belt things. Or, if DIY is not your thing, you could just opt for the $405 designer version of the accessory. Why not?
The cool thing about these non-jeans jeans is that you are able to cinch your waist a la a nice high-waisted pair of vintage denim without actually having to wear jeans at all. If you want to wear leather pants, but add a little denim, there's no need to grab a jean jacket (boring) when you can grab this belt instead. It makes no sense at all, but when it comes to layering, even I have to admit this is a possible game-changer.
Unravel Project Denim Waist Belt, $405, Net-A-Porter
According to the Net-A-Porter product description, the piece was debuted in Unravel Project's Resort '18 presentation and is "designed to appear like it's been sliced from the top of your jeans" with "faded blue... frayed edges and exposed pockets." So, yes, in case you're wondering this is not secretly lined with diamonds or gold. It's supposed to look like you went to the thrift store and cut up some old denim – except, you know, it's $405 and fancy. Plus, it was made in Italy, which always makes things seem more expensive.
While the item is brand new, Twitter users are already speaking out with some questions about the piece. And, I mean, same.
"I'm no expert...And these pair of jeans with no pockets, crotch, or legs AKA a 'denim belt,' will run you $405 dollars!!!!," Twitter user Mastermind says.
Unravel Project Denim Waist Belt, $405, Net-A-Porter
Mastermind has a bit of a point here. These are essentially $405 jeans with no legs, crotch, or pockets. You are paying $405 for a shred of fabric.
Unravel Project Denim Waist Belt, $405, Net-A-Porter
Whether you're calling the belt "confusing" or unnecessary or you're just really excited to finally be able to wear jeans without having to deal with the legs, pockets, or crotch part of them... this belt is available for all your accessorizing needs. Unfortunately, there is one thing that might make it a little less attainable for the masses (aside from the price tag). It is only available in one size and unlike, you know, an actual belt, you can't adjust it at all.
Unravel Project Denim Waist Belt, $405, Net-A-Porter
This fact, of course, takes the piece from almost totally impractical to completely unpractical. However, who said that accessories were ever supposed to be practical? Sure, there was a time when belts were created to serve an actual purpose in holding our pants up — but this doesn't apply when the belt actually is a pair of pants, right?
Clearly, Unravel Project was thinking outside the box when they came up with this denim item. And while the price tag is a little shocking, there's nothing wrong with wearing something a little different. Plus, even I have to admit the styling in the product photos is chic. Ridiculous or not, this item was made for someone who is equally as creative as the belt itself — and, you know, also can afford spending $405 on the waistband of a pair of jeans.