This 8-Year-Old Girl Dressed Like Michelle Obama For School & Her Photo Went Viral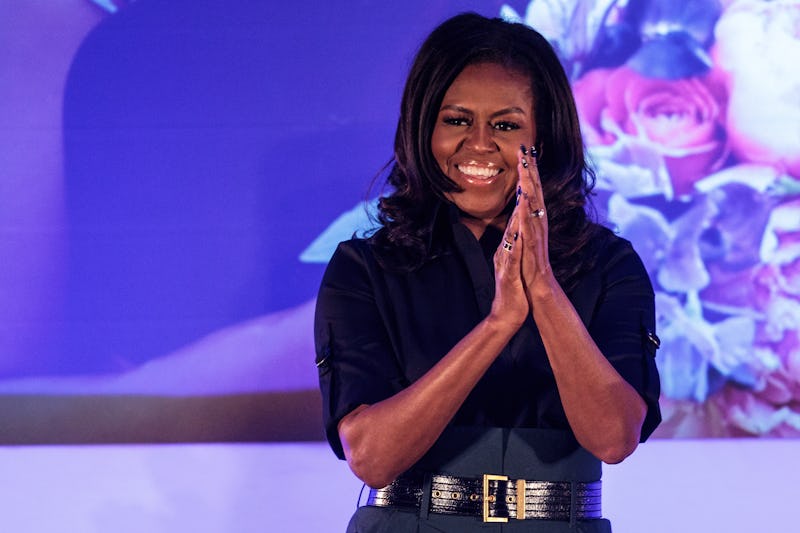 Jack Taylor/Getty Images News/Getty Images
A little girl went viral in recent weeks, after her mother shared a photo of her eight year-old daughter dressed up like Michelle Obama. The girl's parents say that this isn't the first time that she dressed up like one of her heroes, and that they encourage her to look up to similarly strong women.
"We try to surround Ella-Lorraine with women who are go-getters like Michelle, women who are independent and smart, level-headed and loving," Eugene Brown, the girl's father, told Makers. "We make sure she knows about those who have gone before and have passed on."
Ella-Lorraine's mother, Karlyn Johnson Brown, shared photos of the outfit, which was reportedly worn as part of her school's Cultural Heroes Day, to Facebook. In the photos, the elementary school-aged little girl is seen wearing an outfit similar to the one that Obama wears in an iconic photo of her as a freshman at Princeton.
"Michelle is a power house in her own right," Johnson Brown wrote in the post. "Celebrating strong women and role models, here!" Like Obama, Johnson Brown is also a Princeton alum.
She told Makers that she was especially happy to see Ella-Lorraine dress up as the college student version of Obama. "I loved it because by choosing to portray her hero as a college student, the focus was on Michelle's accomplishments as an individual, not just as an attachment," she said.
The former first lady even shared a link to an article about the little girl's viral fame.
Among the other women that Ella-Lorraine has dressed up as are Ruby Bridges and Bessie Coleman, according to Makers, which shared photos of her previous costumes on Twitter. Even Ella-Lorraine's name was chosen in honor of the iconic jazz singer Ella Fitzgerald, which her parents say she is well-aware of.
"Ella-Lorraine has been taught from an early age about the women for whom she's named and how they used their voices," her mother told Makers. "She knows that folks came before her that allowed her to be where and who she is today, and we've encouraged her to not back away from embracing that history."
Obama is known for championing organizations around the world that support young girls, particularly with regard to education. In October, she launched the the Global Girls Alliance, which, per The Washington Post, does just that — supports such organizations worldwide.
"When you educate a girl, you educate a family, a community, a country," Obama said on the Today show earlier this year, per The Post. "If we care about climate change, if we care about poverty, then we have to care about education."
And encouraging the next generation of girls seems to be what Obama is all about. Speaking about the #MeToo movement in the same interview, she said, "Change is not a direct, smooth path — there's going to be bumps and resistance. There has been a status quo… and that is changing and there's going to be a little discomfort. It's up to women out there to say, 'sorry you feel uncomfortable but I'm paving the way for the next generation.'"