'A Walk To Remember' Reunion Finally Happened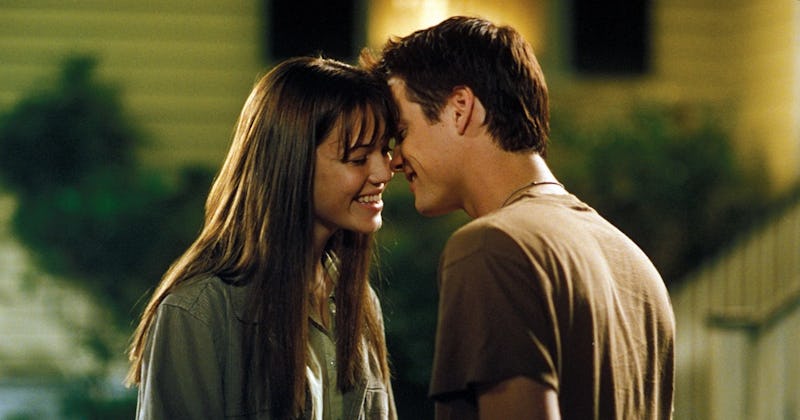 Warner Bros.
Even if you've grown accustomed to rolling your eyes at Nicholas Sparks movies (I mean, really, attractive young couples don't kiss in the rain that often), you probably still harbor a soft spot for A Walk to Remember. It was the tear-jerking early 2000s flick that taught you about love and the inevitability of death. Well, get your tissues ready: there was a Walk to Remember reunion between Mandy Moore, Shane West, and director Adam Shankman Sunday night, and it sounded more uplifting than the last time they worked together.
"Welp. These 2 gentlemen are still some of the best around. Loved catching up with ya, @theshanewest and @adamshankman" Moore wrote on her Instagram, following up that her heart was full. Mine too; it's impossible not to flashback to that movie and the first time the actress made us power sob.
The year is 2002. This was back when Moore was trying to break out of her pop star persona, a soft open which started with her as a cruel Queen Bee in The Princess Diaries. The pop star, however, was born to be a screen sweetheart, and she went copper-haired for her role as tender-hearted, leukemia-ridden Jamie Sullivan.
Jamie and reformed bad boy beau Landon connect over a school play that shows she just isn't some nerdy outsider, and from there they have a love that blossoms in spite of her time limit. They try to make the most of their time, though, with Landon becoming Jamie's final-days angel and eventual husband. Of course... we all know how it all ends (with a powerful sweeping depression and repeated, shell-shocked assessment of, "Such a good film.").
What's interesting about this movie, in retrospect, is that it totally set the tone for Moore's most recent role of Rebecca Pearson on This Is Us. I mean, her character is very different, and, hey, still kicking it throughout the decades. However, Rebecca spends the first few episodes (and several decades) burdened with a painful secret. The show is consistently throwing powerful, sentimental curve balls that have it's viewers perpetually choked up. And it's Moore (I mean, the entire ensemble, but special props to Moore) who has to carry a lot of the emotional heavy-lifting. Clearly, the actress was so prepped to be a part of the show because A Walk to Remember trained her well.
Check out the Instagram below to see the two lovers reunite, and dust off your old Walk to Remember DVD to see how far the actress has come since then.