A Man Was Convicted For Assaulting A Woman On A Plane & It's Part Of A Startling Trend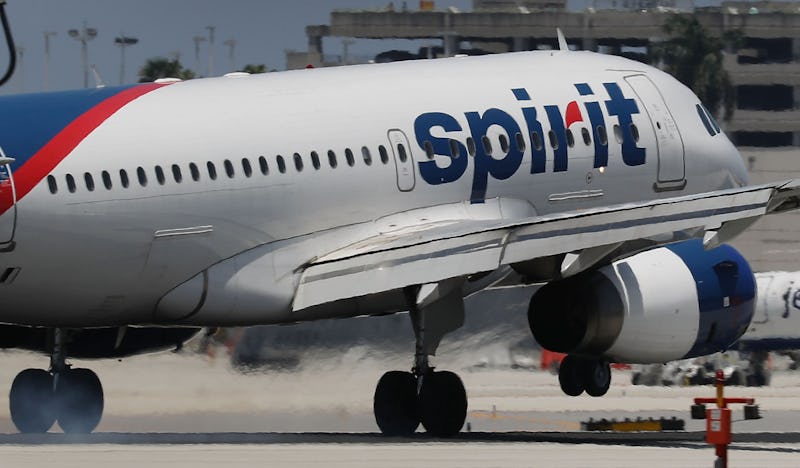 Joe Raedle/Getty Images News/Getty Images
A man accused of sexually assaulting a sleeping woman on a domestic flight has been convicted by a federal jury and could face life in prison. But law enforcement officials have said reports of sexual assault on airplanes are increasing at alarming rates, meaning this case is part of a startling trend.
Prabhu Ramamoorthy was convicted late last week of digitally penetrating a woman as she slept in the seat next to him on a Spirit Airlines flight traveling from Las Vegas to Detroit in January, NPR reported. According to the U.S. District Attorney's Office for the Eastern District of Michigan, the woman was woken by the assault and found her pants unbuttoned and unzipped. Startled, the woman fled from her seat and reported the incident to flight attendants.
According to The Washington Post, Ramamoorthy initially told investigators he'd taken a pill that put him into a deep sleep. Prosecutors said, however that Ramamoorthy and his wife, who was traveling with him at the time of the assault, later said the pill was Tylenol. Ramamoorthy reportedly also told an FBI investigator that he "might have" unzipped the woman's pants, unhooked her bra, and "tried" to put his fingers inside her.
At trial, however Ramamoorthy's attorney argued his client had thought what he told police was inadmissible and feared he would be tortured unless he incriminated himself.
Yet as disturbing as this specific case is, FBI officials have said cases like it aren't rare. In fact, the FBI announced earlier this year that the number of reported midair sexual assaults has increased 66 percent from fiscal year 2014 to 2017. According to CNN, the FBI investigated at least 63 cases of sexual assault on aircraft in 2017, a jump from the 57 investigations completed the year prior and the 40 and 38 conducted in 205 and 2014, respectively. And FBI Special Agent David Rodski told the cable news network the agency was seeing reported assault increase "at an alarming rate."
But investigators believe the actual number of in-flight or midair sexual assault cases could be significantly higher than what's been reported as sexual assaults are generally an underreported crime. "It's safe to say that many incidents occur that are not reported," Special Agent David Gates said in an April FBI report on the topic.
"Everyone has the right to be secure and safe when they travel on airplanes," U.S. Attorney Matthew Schneider said in a statement put out Thursday. "We will not tolerate the behavior of anyone who takes advantage of victims who are in a vulnerable position, and we are glad the jury agreed. We appreciate the victim in this case for her courage to speak out."
While Ramamoorthy, an Indian national living in the United States on a work visa, could face a sentence as severe as life in prison, the district attorney's office noted he would be deported after serving his sentence should he be given a shorter punishment, per NPR.
FBI officials in Detroit urged anyone who experiences or witnesses a sexual assault while traveling to report the incident immediately to flight crew, airport security, and the FBI as it is a federal crime. "The safety and security of all aircraft passengers is a priority for the FBI, our local and federal law enforcement partners, and airline carrier personnel," Timothy R. Slater, Special Agent in Charge, Detroit Divison of the FBI, said in a statement. "The federal conviction of Prabhu Ramamoorthy demonstrates the FBI's commitment to hold individuals accountable for their actions on an aircraft, especially those who commit such a heinous crime."