This WNBA Team Will Make History By Supporting Planned Parenthood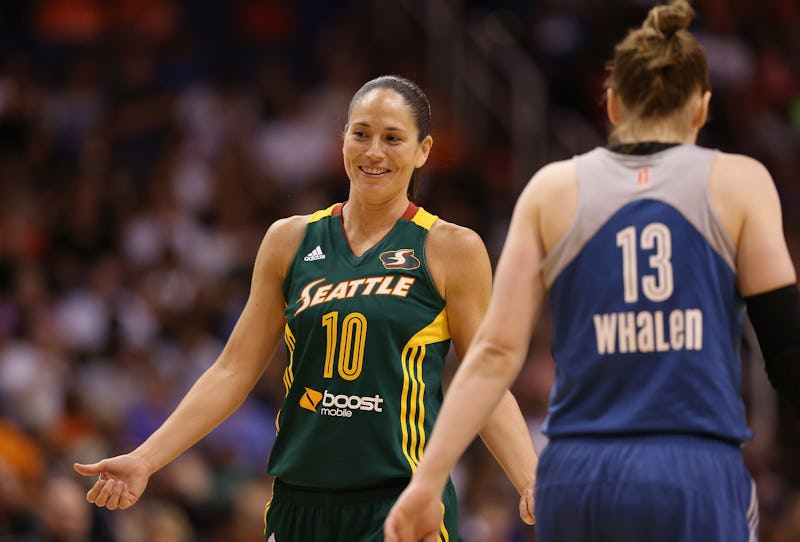 Christian Petersen/Getty Images Sport/Getty Images
Later this month, professional sports will mark a new first, as the WNBA's Seattle Storm will fundraise for Planned Parenthood at its July 18 game against the Chicago Sky. It will reportedly be the first time that a professional sports team partners with the non-profit healthcare organization, which has seen its funding threatened by Republican and Trump administration proposals. The fundraising campaign will coincide with a "Stand with Planned Parenthood" rally at the team's KeyArena.
The Storm announced its support for Planned Parenthood last month via its ownership group, Force 10 Hoops. According to The New York Times, Storm co-owner Dawn Trudeau called the decision to support Planned Parenthood a "light bulb" moment. "Obviously, we are progressives, so throughout this year we've had conversations about what was going on in the country, and what we might as individuals might do about it," she reportedly said of the owners' decision.
Ticket sales from the Storm's game against the Sky will raise money for Planned Parenthood, with $5 from each ticket going to the organization. According to Politico, a sellout would constitute 9,686 tickets, meaning a potential donation of nearly $50,000 from ticket sales. A benefit auction will take place outside the arena before the game, complementing the donation from ticket sales. The rally and game will reportedly be broadcast by ESPN2.
The Seattle Storm makes a logical partner for Planned Parenthood. The team is owned by Trudeau and two other women, Lisa Brummel and Ginny Gilder. Together, they are among the only female franchise owners in all of professional sports. Trudeau is a former Microsoft executive who now serves in a group of venture capitalists. Brummel is also a former Microsoft executive, while Gilder is an entrepreneur and an Olympic medalist. Through Force 10 Hoops, the trio of female businesswomen kept a beloved sports team in their community, and now, they have found an opportunity to support an organization that works to benefit women in their community and beyond.
As of Tuesday, tickets to the Storm's July 18 game were still available via Ticketmaster. They ranged in price from $10 to $111. The partnership with Planned Parenthood could benefit the WNBA teams, as well as the nonprofit organization, if the promotion is able to incentivize ticket purchases. The WNBA's average game attendance reached a new high last year at 7,655 attendees on average. That's an improvement over years past, but it was dwarfed by the NBA's record-setting average game attendance of 17,884 last year. What it lacks in numbers, though, the WNBA will make up for in advocacy, as the Seattle Storm's Planned Parenthood partnership will soon set a new standard for what it means to be in professional sports.