Here's How A Makeup Artist Created That Super Creepy 'American Horror Story' Apocalypse Poster — EXCLUSIVE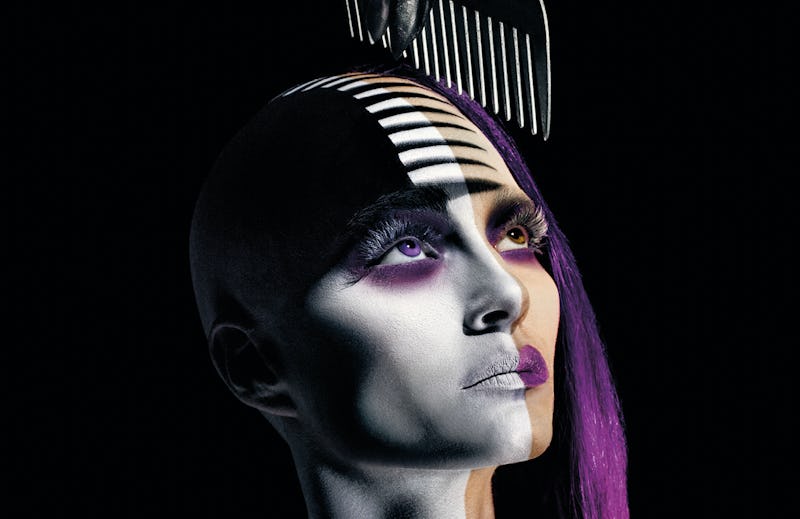 Courtesy of FX
If you love Halloween, it's highly likely that you are already planning your costume(s) for various parties, gatherings, and get togethers on and around Oct. 31. Halloween can be such a creative time for makeup lovers. If you are a makeupista and want to do an American Horror Story Halloween costume, you can recreate or be inspired by the look in one of the epic, artistic, and creepy 'Apocalypse' promo posters.
You know the campaign image featuring a model with two distinct and different halves to her face and a giant comb looming over her head? You can totally copy that look.
Makeup artist Kerry Herta exclusively revealed to Bustle via email the products and the techniques that she utilized to craft this unforgettable and mesmerizing aesthetic for Season 8. You can employ all of the tips and products to replicate the look — or add your own custom touch if you wish.
Herta started out by placing a bald cap on the model and properly prepping skin. That remains Herta's top priority with any client — well-primed and prepared skin is essential and provides the foundation on which to build a look. Or in this case — a eye-catching, head-turning, two-toned, and double-dipped lewk.
Below is the "tutorial" and the full rundown of products and methods used to achieve this look.
Herta supplied all the info on the tools and the techniques to get this look. Happy Halloween and happy costuming.