How This Makeup Artist Created The 'American Horror Story' Season 7 Poster Will Blow Your Mind — EXCLUSIVE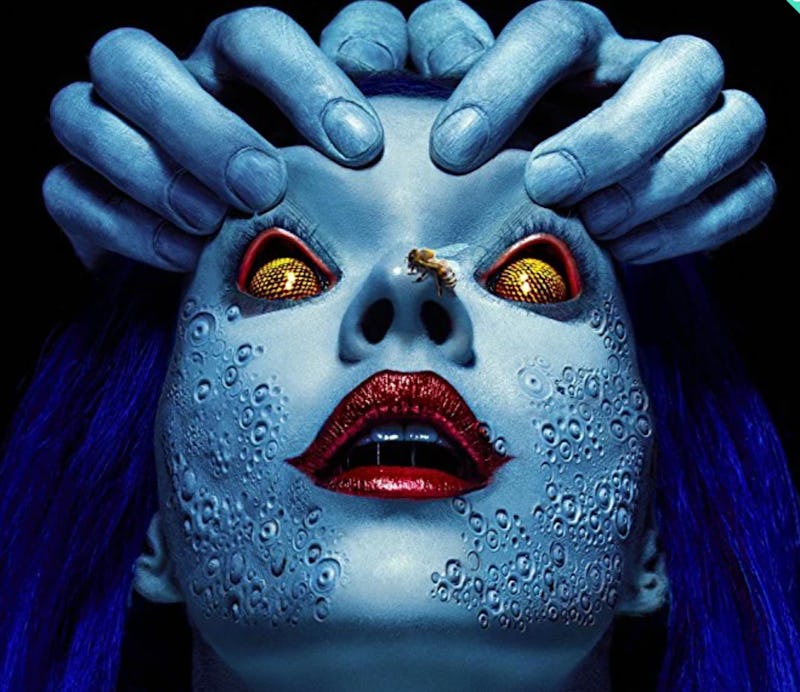 Courtesy of FX
The promotional poster for Season 7 of the cult classic series American Horror Story is beautifully creepy, thanks to the contrast of the character's crimson red lips to her frosty blue skin. Now makeup artist Kerry Herta is exclusively revealing all of the products that she used to create this look, which is equal parts chilling and stunning.
With Halloween on the horizon, you can — and should — take inspo from this FX look. Replicating that blue-tinted skin may seem like a daunting task — that's because it is. However, Herta shared all of the techniques and tools she utilized for this look. It's a lot of complex steps, so if you are a novice makeupista, this may be a bit too ambitious for you. But if you are a more experienced makeup artisan with an adventurous streak, you can totally attempt to recreate this visual masterpiece. Or, at the very least, you can put your own spin on it.
"As has become tradition with every promotional campaign for American Horror Story, we sought looks that combine ethereal beauty with something shocking," Herta told Bustle via email. "Like the show itself, the images we created were intended to be both artistic and unsettling to the point where the audience simply couldn't look away. "
Mission accomplished. Proceed to stare at the image below.
Herta employed products by Veil Cosmetics and a few other FX brands for this look.
"I started with silicone transfer appliances applied to the eyebrows in order to completely block them out," she told us. "Telesis 5 Silicone Adhesive was used to apply them. The circular patterns were also silicone transfers, both appliances were custom made for me by my pals at Autonomous FX, Inc."
She furthered, "I then filled in the circles with European Body Arts alcohol-based paints. This gave them color and dimension under the lights."
Sunset Skin Foundation, $49, Veil Cosmetics
The most striking feature in this poster is the texture and hue of the skin, which looks incredibly unblemished and as soft as a newborn's.
"To achieve the skin tone and smoothness on the rest of the skin, I prepped using the Veil Cosmetics Sunset Light Primer, Serum, and Mixing Base," Herta said. "Next, I followed up with Veil Cosmetics Complexion Fix as both a concealer and highlighter, mostly under the eyes and on high points. I then airbrushed Temptu's silicone based Airbrush Makeup on the skin, avoiding the silicone pieces."
Herta got creative through customization with the look, too. Especially when it came to that killer highlight.
"Lastly, I lightly dusted a custom mixed Stroboscope color," she said. "I blended a color just for this campaign for Moonplay Cosmetics. All these steps helped to give that ethereal glow and illusion this skin was a reality."
Written in Blood Lipstick, $24, Rituel de Fille
The lip look was achieved with products that may be more familiar to you.
"Lips were drawn with Kat Von D Beauty's Everlasting Lip Pencil in Homegirl, and filled in with Written In Blood Lipstick from Rituel de Fille," Herta said. "The coolest finishing touch ever was the custom bee contact lenses that Veiled Optics made for me."
Here's another look that Herta created for the new season of the show. She clearly knows what she is doing when it comes to special effects makeup.
If you are ISO further inspo for your Halloween costume makeup, this ought to do it.
Herta's attention to detail and deftness with the product makes these looks so lifelike. But remember, she's a professional and a lot of the tools and product she used aren't available at your local makeup haunt.
That said, you can make them your own, simply using these posters as source of inspiration and using Herta's tips as a guideline. just don't forget to have fun. That's the number one rule of makeup.