Anthony Scaramucci's Doppelganger Is That Guy From 'Futurama'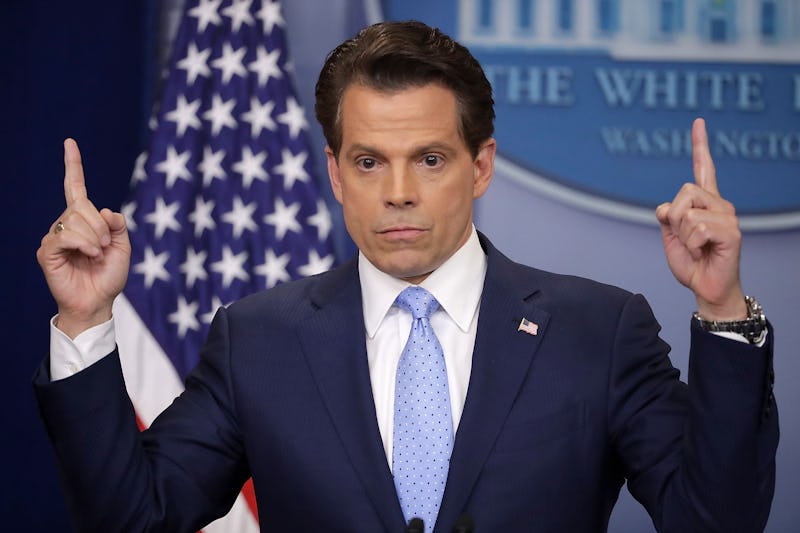 Chip Somodevilla/Getty Images News/Getty Images
Sometimes the internet is a horrid place, full of trolls, viral hoaxes, and dark rabbit holes of totally weird memes — but other times the internet brings us gifts that delight and amaze us. Some very special people on Twitter brought us one such gift when they pointed out that newly-appointed White House Communications Director Anthony Scaramucci was essentially "That Guy" from Futurama brought to life.
New York financier and Republican fundraiser Scaramucci has been described as a "salesman," a "schmoozer," and a "financial showman who rivals Trump's own outsize knack for self-promotion." And clearly he's got style, having reportedly been nicknamed "Gucci Scaramucci" by former President George W. Bush.
However, President Donald Trump's decision to appoint Scaramucci, a man with no known professional experience in communications, as his new White House communications director kicked off a chain of events that culminated in Sean Spicer abruptly resigning as White House press secretary on Friday. But while some look at Scaramucci and see a man who brought upheaval to the White House, many on Twitter only see "That Guy."
For those who aren't familiar with the full cast of secondary characters to have ever appeared on Matt Groening's animated science fiction sitcom, "That Guy" is a slick-looking but sleazy stock broker from the 1980s. "That Guy" (whose real name is actually Steve Castle, though no one calls him that) had himself cryogenically frozen after he learned he had boneitis, a fatal — and completely fabricated — disease that cripples the bones.
"That Guy," who actually does weirdly bear a strong resemblance to Scaramucci, appears in Season 4 of Futurama in the episode entitled "Future Stock." Following his defrosting, "That Guy" meets one of Futurama's main characters, Philip J. Fry, at a defrostee support group.
He's given great one-liners such as, "Now, the first order of business is to blame everything on the guy before me"; "Awesome. Awesome to the max"; and "My only regret is... that I have... boneitis!"
During the episode, "That Guy" becomes the CEO of Planet Express and begins to try and teach Fry the tricks of being a corporate sleazeball, including how to brush off investors or employees' concerns with the phrase "Don't you worry about blank. Let me worry about blank."
In the end, "That Guy" does little actual work, draining most of Planet Express' funds to finance a flashy lifestyle and an image-conscious television commercial. When Planet Express becomes unprofitable, "That Guy" attempts to sell the company to Mom, a rival businesswoman. Unfortunately for "That Guy," his boneitis kills him before the deal goes through.
Perhaps it was the slicked back hair, the ties, or the dapper suits that drew so many on Twitter to crown "That Guy" as Scaramucci's doppelganger. Or perhaps it was the schmoozey attitude the two seem to share.
Either way, Twitter has been awash with Scaramucci/"That Guy" comparisons all weekend as users of the micro-blogging network delivered the rest of us tiny gifts of laughter in 140-characters or less.