Trump Is Quietly Making It Easier For Businesses To Discriminate Against LGBTQ People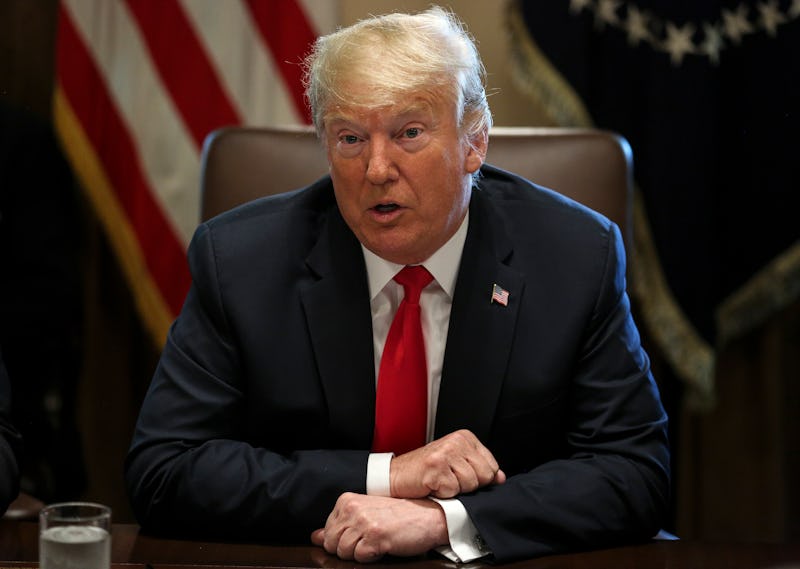 Pool/Getty Images News/Getty Images
When Donald Trump was running for president, he promised that his administration would be LGBTQ-friendly, and that he would move the Republican Party on key issues. However, Trump has actually undermined numerous protections for LGBTQ Americans, and in a directive issued just last week, the Trump administration rolled back another policy protecting LGBTQ people from discrimination. According to BuzzFeed, the Department of Labor's Office of Federal Contract Compliance Programs issued a directive on Aug. 10 that attempts to give federal contractors immunity on religious grounds if they are accused of discrimination.
Directive 2018-03 references Executive Order 11246, which was signed by former President Lyndon B. Johnson in order to establish equal opportunity in the workplace. This executive order — which has been amended since it was first issued in 1965 — states that federal contractors cannot discriminate on the basis of race, color, religion, sex, sexual orientation, gender identity, or national origin when making hiring decisions. Directive 2018-03 argues that Johnson's executive order does not pertain to religious organizations, and cited other examples like the Hobby Lobby case to suggest that employers can raise a "religious exemption" if accused of discrimination.
The Department of Labor directive does not directly repeal an Obama-era ban on anti-LGBTQ discrimination by federal contractors. Instead, according to Sharon McGowan — the legal director for the LGBT group Lambda Legal — "this Administration is trying to accomplish the same end through different means."
Trump administration critics have argued that this directive could be harmful for LGBTQ workers, NBC News reported. Harper Jean Tobin, director of policy at the National Center for Transgender Equality, expressed concern that this directive could allow employers to "use taxpayer dollars to fire someone because of who they are."
"Religious organizations have ample protections under federal law, but they are not allowed to use federal money to discriminate against people," Tobin told NBC News. "The language of this directive is so broad and so vague, because it is part of a long line of attempts by this administration to sow confusion and encourage any employer to act on their worst prejudices."
Ria Tabacco Mar, a lawyer for the American Civil Liberties Union, echoed this sentiment to BuzzFeed News, saying that the new directive gives federal contractors the impression that they can freely use taxpayer dollars to discriminate against LGBTQ employees.
In 2014, former President Barack Obama issued an executive order prohibiting federal contractors from discriminating against LGBTQ employees and applicants. The Trump administration directive has essentially found a loophole in that executive order, BuzzFeed News pointed out on Twitter. Instead of repealing Obama-era protections entirely, the Trump administration is giving federal contractors more room to evade accusations of discrimination.
"Recent court decisions have addressed the broad freedoms and anti-discrimination protections that must be afforded religion-exercising organizations and individuals under the United States Constitution and federal law," the directive reads. "Recent Executive Orders have similarly reminded the federal government of its duty to protect religious exercise-and not to impede it."
According to ThinkProgress, the Labor Department seems to be the latest in a series of departments that have recently taken a greater interest in protecting religious freedoms. In January, the Department of Health and Human Services announced the creation of a Conscience and Religious Freedom Division, in order "to restore federal enforcement of our nation's laws that protect the fundamental and unalienable rights of conscience and religious freedom." In July, Attorney General Jeff Sessions announced that the Justice Department had created a task force in order to implement religious liberty guidance, suggesting that nuns wouldn't be "ordered to buy contraceptives" if such guidance were enforced.
Despite swift backlash from LGBTQ organizations and Trump's critics, White House Deputy Press Secretary Lindsay Walters told BuzzFeed News that the Trump administration "will continue to ensure anti-discrimination protections are in place for all Americans," including "faith-based and LGBT communities."