This Marriage Proposal Will Melt Your Book-Loving Heart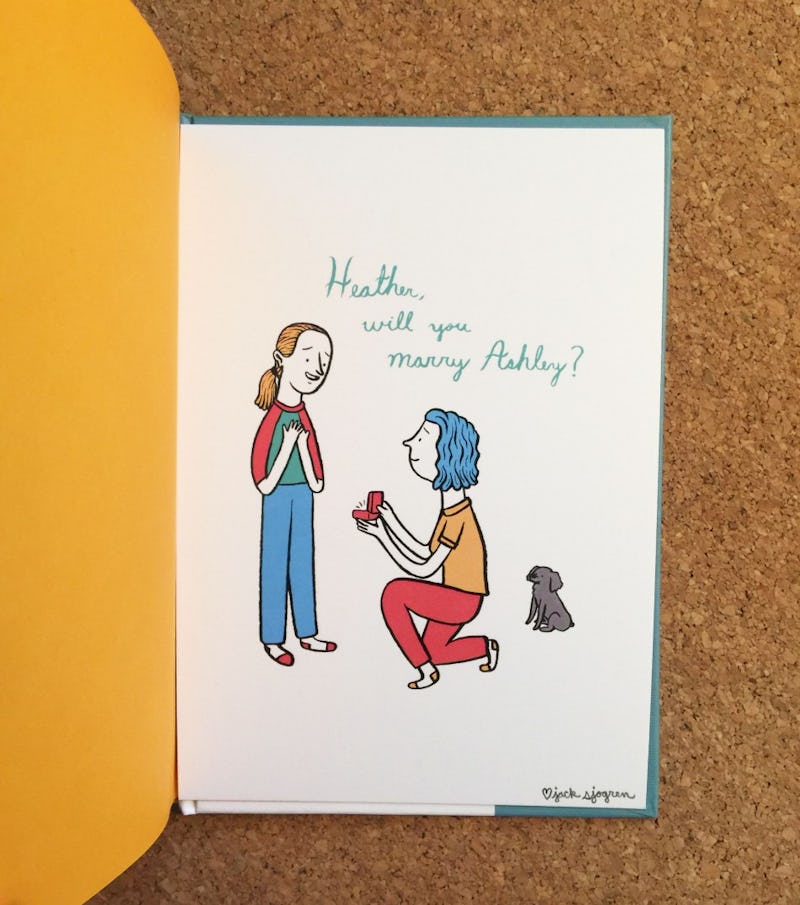 Courtesy Of Chronicle Books
Today in kind, heartwarming, "not all humans are garbage" news, this author hid a marriage proposal in his book. Yeah, I'm taking notes, too.
April, Senior Publicist from Chronicle Books, recently shared this literary love story on Chronicle's blog, and it's guaranteed to remind you that you have a heart (and also very much endear you to Jack Sjogren) (and also to this person named Ashley).
Last month, author Jack Sjogren received an email from a fan named Ashley regarding his 2016 book Things I'd Do (But Just For You), which, per its title, chronicles all the silly, special things one is willing to do for those they love. "I purchased your book a while ago and gave it to my partner as a gift. It's been important to us ever since, as we use your words from the book daily!" Ashley wrote, and wondered if Mr. Sjogren would be willing to send her an autographed copy. "In fact, if I can get another copy, can I even go as far as having you write this: 'Heather, Will you marry Ashley?'"
Things I'd Do (But Just For You) by Jack Sjogren, $10.69, Amazon
(I'm pausing for squeals, aww's, and any other sound that implies this is the cutest, kindest proposal you've ever heard).
In honor of this cutest, kindest proposal, Mr. Sjogren took things a step further. Er, several steps further. I love when people are extra in the name of love.
Mr. Sjogren created an additional illustration of Ashley proposing to Heather, slipped it into the back of the book, and included the sweetest inscription: "Dear Heather & Ashley, I hope this copy of my book finds you in very high spirits! I am very grateful that you both exist."
I! Know! I'm! Screaming! As well!
Last week, Mr. Sjogren got an update: the proposal worked (of course it did), Heather and Ashley are now engaged, and oh - you can stop holding your breath now. It all turned out wonderfully!
For those of you wondering, Heather and Ashley's favorite moments from the original book are, "I'd wake you up… with donuts" and "I'd make you a tiny hat… in case your hat gets cold." They told Mr. Sjogren they remind each other all the time that they really would do them for one another.
No word yet on whether Heather and Ashley's wedding will feature donuts or tiny hats for hats, but one can always hope, right?