The 'Avengers' Directors Just Dropped A Clue About The Title Of The Next Movie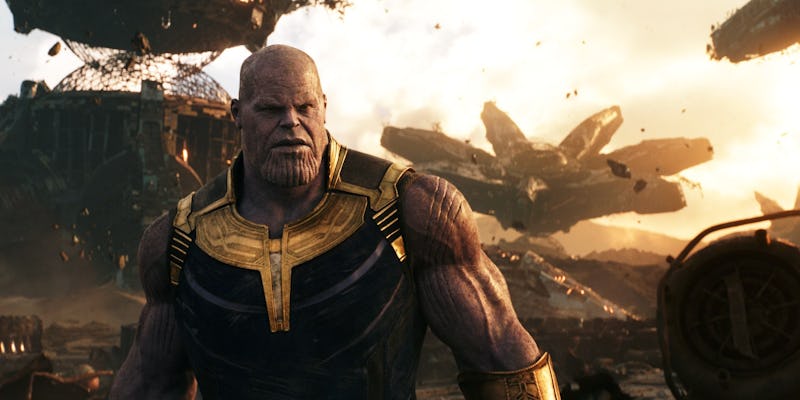 Marvel Studios
It's been over three years since fans learned there would be a fourth Avengers film and started speculating on what the title would be. Now, on the heels of Avengers: Infinity War's highly-anticipated release, Marvel lovers obviously have the next mysterious installment on the brain. While what the title of Avengers 4 is remains unknown, Bustle got some insight from directors Anthony and Joe Russo out of the recent Infinity War junket in LA that could help inform fans who are formulating their guesses.
"We do have a name for it, we're just not announcing it," says Anthony, speaking alongside his brother. "And I think we came to that name fairly early in the development process. It speaks to the heart of the story."
Even if they came to the decision early, Joe reveals they went through "quite a few names" before picking the final version. They had plenty of time to do it; the film was first announced in October 2014 as Avengers: Infinity War – Part 2, and it wasn't until July 2016 when Marvel changed it to Untitled Avengers film AKA Avengers 4. But no, keeping the name a simple Avengers 4 for the 2019 film was never considered — the directors both joke that would've made things way too easy. "No, I think it's just out there as a placeholder because these movies get announced so early before they've been written and worked through," Anthony says.
Now, the anticipation over the name is getting some polarized feedback. Marvel Studios President Kevin Feige recently told IGN that he feels that withholding the Avengers 4 title has "backfired." He explained, "It's gotten entirely out of hand. And now will have no chance to living up to any expectations of what it's gonna be." And last April, while promoting Guardians 2, Zoe Saldana may have accidentally slipped when discussing the 2019 movie.
"We're in the middle of [Infinity War]," she said to BBC News. "I think the Guardians just shot their part when it comes to Infinity War, the first part, and we all have to go back for Gauntlet later this year." Digital Spy then discussed the name Avengers: Infinity Gauntlet, derived from the comic the third and fourth installments are based on. Other titles the outlet guessed were Avengers: Infinity Crusade and Avengers: Infinity. However, Guardians director James Gunn intervened and said Saldana misspoke.
A few months later, Kevin Feige confirmed Avengers 4 would be a turning point in MCU after the epic showdown between Thanos and the Avengers in Infinity War, in an interview with The Toronto Sun. "The original 22-movie arc ends with the untitled Avengers in May of 2019, and then two months later it will be Peter [Parker] and Spider-Man that usher us into the aftermath and how things proceed from there," Feige said. Further, Den of Geek has reported the return of cast members like Josh Brolin (Thanos) and Chris Evans (Captain America) and the possibility of time travel or an alternate universe due to new castings in the upcoming film.
Avengers 4 will certainly have a lot to top after the legendary Infinity War chapter, which fans are calling "epic" and "jaw-dropping." During our interview, co-director Joe Russo gives fans who have yet to see Infinity War a message: "If you've been following along with the Marvel Universe for the last 10 years, this is it. This is the big ending, the final chapter of the book. Be excited." Anthony chimes in, saying, "We try to build these movies so they give audiences a very complete, thick experience and one they can keep revisiting over and over."
There's no doubt that the momentum building up to Infinity War will continue on to Avengers 4 as long as the directors are at the helm.