Things Got Awkward Fast Between Trump And Angel Merkel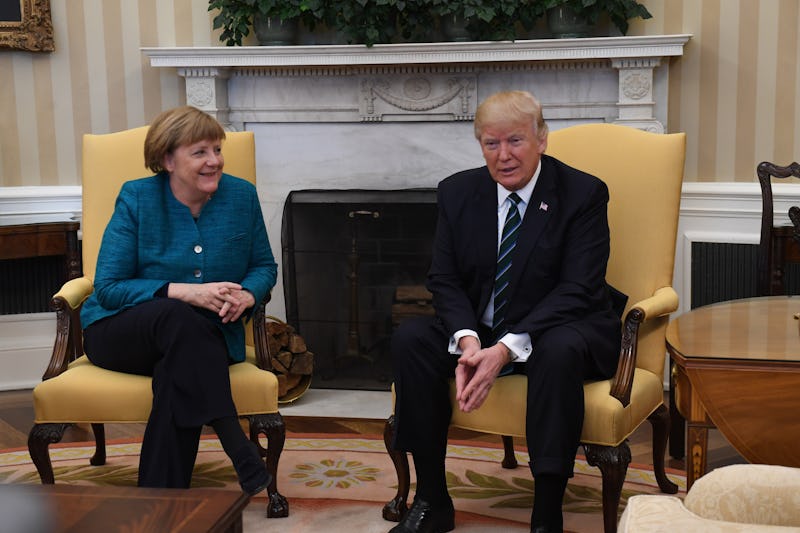 Pool/Getty Images News/Getty Images
President Donald Trump has had another cringe-worthy handshake moment. However, unlike Trump's previous awkward handshakes in which he's pulled, patted, or hung on far longer than appropriate, this moment sticks out because there simply was no handshake. President Trump appeared to snub a handshake with Angel Merkel during a meeting Friday in the Oval Office.
Trump and the German chancellor seemed on amicable enough terms when Merkel first arrived at the White House, shaking hands and exchanging pleasantries as the German leader stepped from her car. But perhaps things between the pair took a wrong turn somewhere between the front door and the door to the Oval Office? Or perhaps Trump simply didn't realize he was leaving Merkel hanging? The flashes of multiple cameras can be disorientating.
Whether it was intentional or accidental, here's how Trump's apparent snub went down. Video footage taken while Trump and Merkel were seated in the Oval Office and posing for photographs before the press pool show one photographer repeatedly asking the pair to shake hands. Merkel looks toward Trump, who continues to look straight ahead. She leans closer to him, asking him a question you can't quite hear in the video but that has been reported to have been, "Do you want to have a handshake?" Trump does not respond. He does not extend his hand for a handshake as he did while posing with both Japanese Prime Minister Shinzo Abe and Canadian Prime Minister Justin Trudeau in the Oval Office earlier this year. In fact, Trump doesn't even glance in Merkel's direction.
Merkel met with Trump on Friday to discuss a variety of issues in what some have predicted would likely be a tense conference given the two leaders' differences of opinions on issues like refugees and immigration. In January, Trump called Merkel's open-door refugee policy a "catastrophic mistake." Meanwhile Merkel has come out against Trump's travel ban, calling it unjustified to put people of a specific background of faith under general suspicion. President Trump was also expected to lean on Merkel to increase Germany's NATO spending during their meeting Friday.
Trump's missed handshake with Merkel isn't the first time the president has found himself caught in an awkward handshake moment. In February, he held onto Abe's hand for an uncomfortably long time, going so far as to even pat it a few times throughout the handshake. And as the Washington Post noted last month, Trump has a habit of aggressively yanking the hand — and person — engaged in the handshake toward him, making it seem as if he's playing a game of tug-of-war rather than carrying out a common ritual of greeting or agreement. Perhaps for Trump a handshake is more about asserting power and control than following through with standard business etiquette or courtesy.