Todd Fisher Gives An Update On Billie Lourd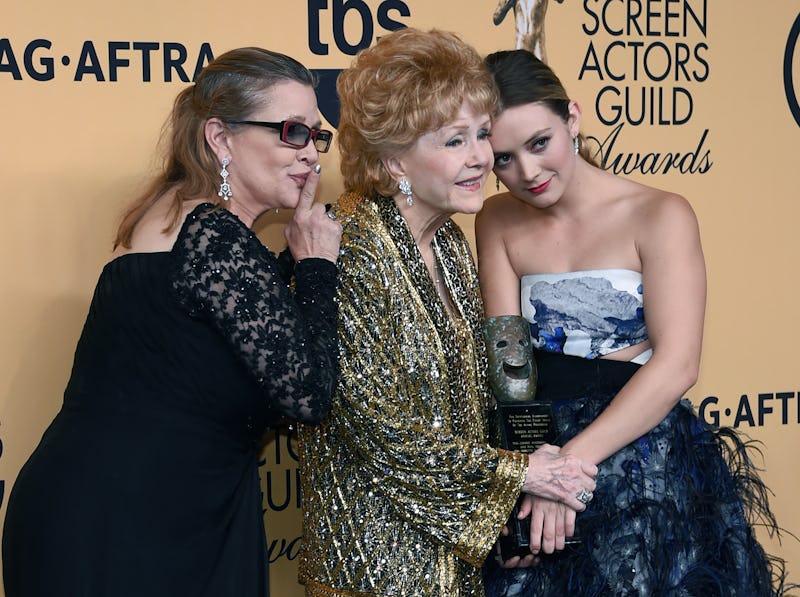 Ethan Miller/Getty Images Entertainment/Getty Images
The pain of losing a loved one is unimaginable, but the pain that comes with having to say goodbye to two people days apart? I can't even imagine the heartache one must feel. If you've been wondering about Carrie Fisher's daughter and Debbie Reynolds' granddaughter, Todd Fisher revealed how Billie Lourd is coping with two huge losses in an interview with Entertainment Tonight. Understandably, it's a lot to deal with, but the Scream Queens star's uncle makes it sound like Lourd's powerful nature is benefitting her.
As difficult as their deaths have been for Todd, he admitted that, in a way, it's worse for Lourd, especially since she is young. He even said that he "was more heartbroken" for her than he was himself after his sister's death and while in the hospital with Reynolds. "It was heart wrenching," Todd said. "The idea that somebody would have to deal with that kind of a loss back to back, moment to moment — I mean we'd just had this horrible loss and then here you are just a handful of hours later standing in a different hospital in a different room. It was astounding."
Like many have felt, even those who didn't know them, there's a noticeable absence without both Reynolds and Carrie. "There's a vacuum in the room and [Billie's] feeling it and we're all feeling it," Todd said. He also explained that he's made sure to give her the space she needs. "I'm letting [Billie] breathe, you know? She needs to breathe. She needs to step back from all of this loss." That said, the strength the 24-year-old acquired from her mom, her grandmother, and also her father, Bryan Lourd, has made her a force.
Todd described his niece as "genetically Carrie and Debbie" but also said about her father, "I don't want to leave Bryan Lourd out of this. He's an awesome father and if it wasn't for him right now, we would be in a much tougher position. He has supported her beautifully."
All of that has made Lourd quite the woman, who Todd believes is going to do great things. "You take those genes, and I think you've created a pretty powerful gal... and she is a lot more like my mother even than Carrie," he said. "You know, she's a little like Carrie but she's a lot like my mother, which means she's going to be another Molly Brown," Todd added referring to Reynolds starring role in The Unsinkable Molly Brown.
It sounds like Lourd has learned from the best. Based on different Instagrams she's shared, the Star Wars: The Force Awakens actor is taking everything she acquired during her time with Reynolds and Carrie to heart. In January, she wrote alongside throwback image of herself and her mom, "Finding the funny might take a while but I learned from the best and her voice will forever be in my head and in my heart."
She also posted a photo of her father last Friday and sweetly wrote, "This man is the strongest, kindest and most selfless (plus every other positive trait you can think of) human I know and I am #beyondblessed to call him my father."
There's no doubt Lourd's life has been impacted by some influential people. It sure seems like they have helped her become a powerful force.