This Bride Wore A GIGANTIC Straw Hat To Her Wedding & You Genuinely Won't Believe The Photos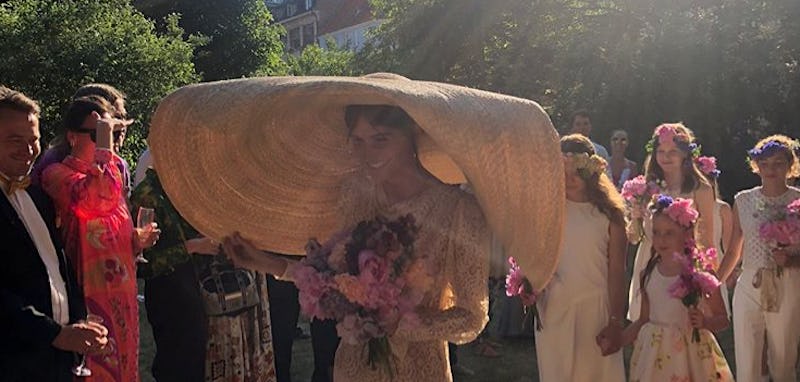 Instagram
One of the best parts about a wedding is the fashion, and seeing just what the bride chose as her aesthetic. And there's something so amazing about seeing a bride throw convention out the window and go with what she really likes. Which is why actress Emma Leth wearing a giant hat for her wedding is such news — she ditched the whole veil-and-demure-princess-dress thing and went with something so unconventional you will want to stand up and clap.
Leth is an actress, Danish It-Girl, and current face of Balenciaga, and she has joined the long line of women who have decided to reinvent what it means to be bridal. More and more nontraditional pieces have been hitting the mainstream, where people now wear everything from colored dresses, to two-piece frocks, to pantsuits, widening the boundaries when it comes to options. But Leth's take is definitely one to remember.
She walked down the aisle at her outdoor nuptials last week wearing a vintage lace gown that was almost Victorian-esque — if you didn't count the fact that it had no lining, letting her lilac bra and undies peek through. And to replace the veil was a massive straw hat that practically stole the whole show. And I mean big. It was roughly the size of a shrub, and was sure to put any Kentucky Derby hat to shame.
For some the hat might almost look cartoonish, but the reason Leth wore it was very sentimental and sweet. It wasn't just about the fashion, but also about getting to live in the moment.
"Getting married is a deeply private thing that you do in front of a lot of people," she told Vogue. "This is why I needed a hat that combined the feeling of hiding and sharing generosity at the same time." Walking down the aisle with people starring at you can be slightly unnerving, and might take you out of the moment. Getting to hide behind a hat the size of a coffee table will let you hide behind the brim and just zero in on your partner, who's waiting for you at the end of the aisle.
The brim definitely did the job when it came to creating some privacy.
The massive, floppy sun hat isn't a new design, and not exclusive to the actress's wedding, either. It was gifted to her by designer Simon Porte Jacquemus, who debuted the unexpected design last fall in his runway show in Barcelona. The 48 looks that he sent down the catwalk were inspired by his childhood memories of his "shy, sexy" mother on the beaches of France, featuring sarongs, beachy palettes, and surreal-like straw hats that could double as beach umbrellas.
The designer is also no stranger to Dada-like designs, where he has experimented with all sorts of exaggerated shapes, out of place silhouettes, and dizzying accents in his previous work as well. For example, for his AW15 show, he sent models down with Picasso inspired faces, bringing a touch of cubism to the runway.
The label also sent models marching down the runway with paper bag masks for faces, further blurring the line between high fashion and art.
As for fans of his floppy hats, Leth isn't the only supporter of the bold look. Solange Knowles wore a straw hat from his collection in April, but instead of the droopy version she chose the more mid-century Dior option, where it sat like a dinner plate on top her head.
Kendall Jenner was also a fan of the retro cap, where she wore the same hat at Cannes last year, matching it with a high wasited pink bikini, and tying it secure on her head with the help of black ribbon.
From weddings to pool sides, the straw summer hat is back in — and challenges us to push outside of our comfort zones and play with our looks up to wild heights.