The First Photo Of Brie Larson As 'Captain Marvel' Is Finally Here & It's Glorious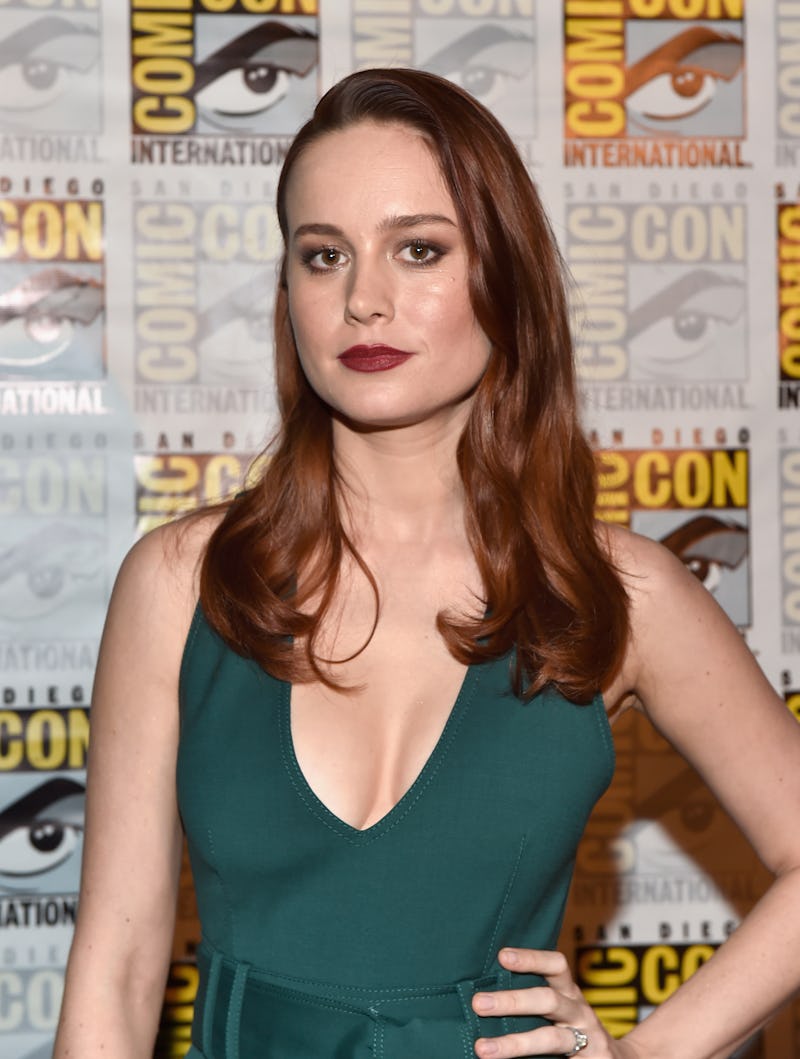 Alberto E. Rodriguez/Getty Images Entertainment/Getty Images
With great power comes great responsibility, and with each new major character introduced in the Marvel Cinematic Universe comes a new costume. The first photo of Brie Larson as Captain Marvel gives fans a sneak peek at the MCU's newest hero, and that's not the only thing the studio is revealing about the film. It turns out, Captain Marvel will be skipping the traditional origin story in favor of throwing the audience right into the middle of Carol Danvers' (aka Captain Marvel, as played by Larson) intergalactic adventures.
Entertainment Weekly unveiled the image of Marvel's first female-led Marvel movie on Wednesday afternoon with brand new cover art. The cover offers fans their first official look at Larson's Captain Marvel costume, a blue, red and gold suit featuring a large, Captain America-esque star on the chest and showcases Carol's otherworldly powers as she floats high above the Earth. Despite some paparazzi photos from May showing Larson wearing a green and silver suit (which some fans theorized was a nod to her position on the Kree Starforce) it seems as if Captain Marvel will, indeed, wear her iconic super suit from the comics. That said, the green Captain Marvel suit does make an appearance in a separate series of EW's exclusive photos from the film.
EW also revealed that Captain Marvel will kick off with Brie Larson's part-alien Air Force pilot-turned-galactic warrior having already received her powers and in the middle of joining the Kree military team, Starforce. Set in the mid-90s, the film will introduce younger versions of the Marvel heroes fans know and love (including Nick Fury, stuck working behind a desk, and without his trademark eyepatch) while introducing new heroes and villains like Jude Law's Starforce commander and Ben Mendelsohn's Skrull leader Talos.
Along with showcasing a fight between Carol Danvers and the shape-shifting Skrulls, Captain Marvel will help introduce audiences to the fierce, feisty character before she makes her next appearance in the upcoming Avengers 4. Her future involvement in the MCU was famously teased at the end of Avengers: Infinity War, and she'll presumably return in Avengers 4 to help take down Thanos after Nick Fury was shown reaching out to her in the Infinity War end credits.
But the Avengers might not have an easy time recruiting Carol onto their team, as Larson revealed that her character can be headstrong and independent. "She can't help but be herself," Larson told EW. "She can be aggressive, and she can have a temper, and she can be a little invasive and in your face. She's also quick to jump to things, which makes her amazing in battle because she's the first one out there and doesn't always wait for orders. But the [not] waiting for orders is, to some, a character flaw."
Larson has been teasing behind-the-scenes looks at Carol Danvers and Captain Marvel on her Instagram page for months now, showing fans all of the crazy workouts that go into sculpting a superhero body (including 400-pound hip thrusts) and her time meeting with Air Force pilots and learning how to fly a plane herself, in order to better portray a hotshot fighter pilot. Though the EW cover is the first official look that fans have gotten at Captain Marvel the superhero, it's clear that Larson's character will be a true, out of this world badass based on everything she's shown in the meantime.
Captain Marvel and all of her awesome mid-90s fashion will hit theaters on March 8, 2019, and EW promised to release more information on the film in the coming week. Hopefully, fans won't have to wait long before getting another glimpse at the film.