This Christmas-Themed Water Park Is Your Childhood Dream Come True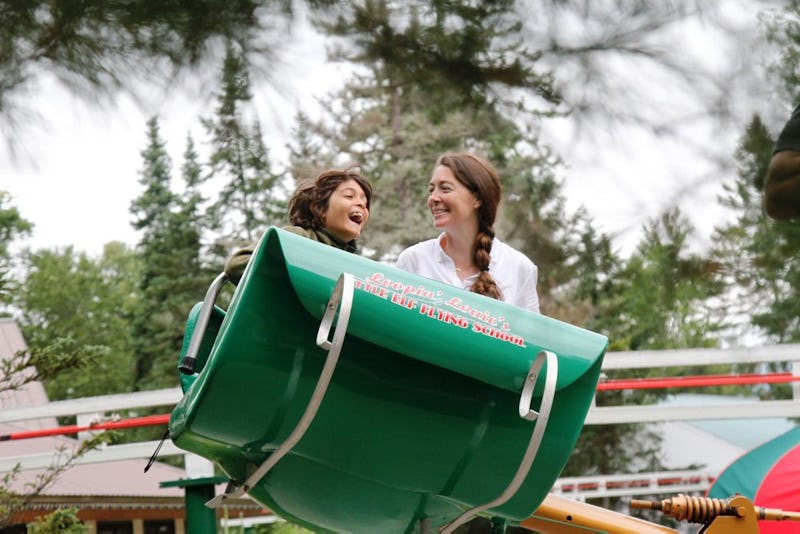 Courtesy of Santa's Village
In these increasingly complex times, it's totally valid — nay, necessary — to find fun and joy wherever possible. And if you ever get a yearning for both the magical days of childhood, and a bit of Christmas in July, I have some news for you: in honor of all things both Yuletide-themed, and pleasing to your inner child, there's a Christmas-themed water park in Jefferson, New Hampshire — and it looks amazing. According to Delish, Santa's Village has been open since 1953, and it's the perfect place to "find your inner elf," the water park's website notes.
According to Santa's Village website, there is a ton of fun to be had year-round at the beloved New Hampshire water park, and I for one fully feel that adults need water parks, too. Or anything, really, that reconnects us with life's simpler pleasures. Once you arrive at the Christmas-themed amusement park, there are myriad aquatic rides, events, and delectable snacks to choose from — and it's worth noting that the food choices are widely varied and look awesome. You can snag some snacky things like fried dough, fries, and cheese sticks at the walk-up service window at Dasher's Delights, and you can also feast on some meal items like burgers, sandwiches, chicken fingers, and hot dogs for the kids. According the Santa's Village website, soft serve ice cream is a specialty at Dasher's.
For those of you who'd rather grab some pizza, you can nosh on made-to-order pies at Nick's Pizza Emporium, while the Doe-nut Factory will whip up fresh mini donuts for you and yours on the spot. The Burger Meister Food Court is your go-to for various full meal options, including soups, salads, and desserts, while Frosty's Freezer makes homemade ice cream in-store. For those with a hankering for fresh fruits and veggies, Fruit Loup's Farm Stand is for you — they also offer warm pretzels, ice cream, and fresh apple crisp. And for a great view of the water park while dining on your lunch or dinner, you can check out the Merry Mess Hall for paninis and pulled pork sandwiches.
And while sussing out food options while traveling is super important, because of course it is, the rides and attractions at Santa's Village look so splendid and way beyond fun. Along with your classic amusement park rides like antique cars, bumper cars, the Christmas-themed ferris wheel — atop of which you can snap a view of Mount Washington and the Presidential Range — and the reindeer-themed carousel, Santa's Village boasts seasonal water rides galore. The Ho Ho H2O water park is a great way to get drenched on a hot day, while the Joy Ride Slides are definitely where I'd want to hang out. Open daily from late May to early October, according to the website (as long as weather temps reach 65 degrees Fahrenheit or higher), the Joy Ride Slides are pretty much everything that's awesome about summer.
There's no doubt that Santa's Village offers a bazillion yummy things to munch on, while the water park could keep you drenched in watery fun for days on end. If you decide to trek your way up to New Hampshire this summer, tickets are priced at $33 per person age 4 through 61, while seniors age 62 and up are admitted for $30. Kids under age 4 get in for free. You can also find additional ticket info here. With a day, or a few, at Santa's Village, you're sure to find that inner elf in no time — and I'm definitely all for that.