You Can Stay At This Terrifying Clown Motel In Nevada For $40 A Night — If You Dare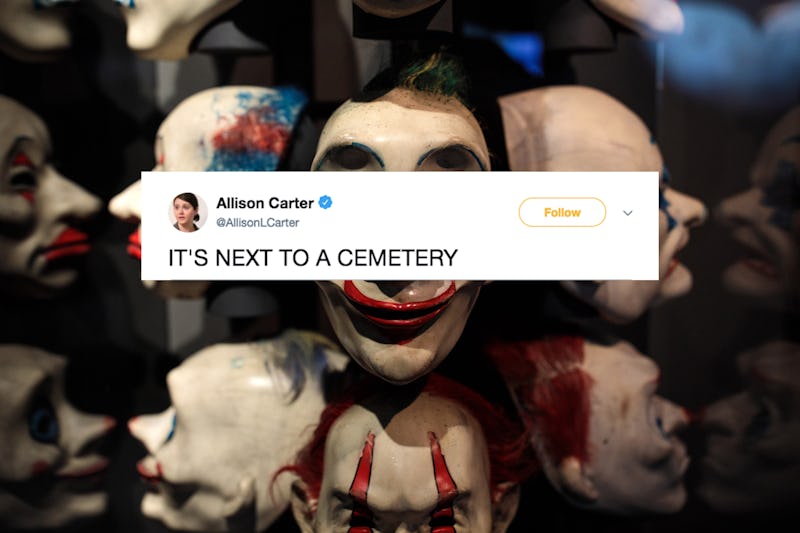 Jack Taylor/Getty Images News/Getty Images
If there's some sort of masterlist of desert getaway spots promising solitude and possibly spiritual reawakening, this Clown Motel in Tonopah, Nevada should be on it — just, in a different way, mostly because "spiritual reawakening" may refer to paranormal entities knocking on your door in the middle of the night. But hey, to each their own! People like creepy things; that's probably why this motel has become somewhat of a hotspot for travel enthusiasts looking for a not-so-average vacay spot in the Nevada desert.
As The Lineup revealed on The Huffington Post Blog, the Clown Motel is exactly what it sounds like: A motel dedicated to terrifying images, figurines, statues, toys, and other miscellaneous items "Not only is the front office filled with shelf-upon-shelf of clown figurines, every room is clown-themed," she articles explained, "There are clowns on the doors, and portraits of famous clowns hang on the walls." It pretty much doubles as a clown museum, which is most people's nightmare — especially after watching It, I assume. Even creepier, the hotel is located next to a cemetery, which can be seem from the windows of the property's $39.95 a night rooms. ~*~Spooky.~*~
If you're ready to get more travel information (or just know about what town to steer clear from), here are the deets: the Clown Motel is located in Tonopah, Nevada, an old mining town that boasted silver deposits in the early 1900s. But in 1942, according to the town's tourism page, a fire wreaked $100,000 of damage when it tore through an extension mill and hotel. Now, it's your fairly average small town, laying about three hours outside of Las Vegas; as of 2010 was home to only 2,478 people.
And also, apparently, 600 clown figures.
If you're wondering who had this fantastically strange idea for a motel, according to The Line Up, "The Clown Motel was founded by Leona and LeRoy David in 1985," That's five years before the 1990 Stephen King miniseries It, in which a demonic clown feasted on fear like I snack on pretzel sticks — and one year before King released the novel version of It. So, I think it's safe to say their idea wasn't influenced by King's killer clown character? Additionally, the choice location of cozying the motel up to a graveyard was because the original owners had family buried there. (Even spookier: The Line Up reported that the cemetery closed only 10 years after opening "when the increasing number of dead outnumbered the plots the cemetery had to offer. Inside its gates lay 300 deceased.")
In 1995, the motel was sold to a man named Bob Perchetti, and it's now on the market for new owners for a cool $900,000. The only caveat is that any new owners have to agree to keep the motel running with its clown theme. Fair.
The Clown Motel has received a bit of attention in the last few years thanks to its unique vibes. In 2015, Travel Channel's Ghost Adventures took a trip to the Clown Motel to investigate after claims of its hauntings. However, even though it's located next to a cemetery of all things, it's worth noting that most of the motel's Facebook reviews are free of paranormal accounts (as well as overwhelmingly positive).
Sure, it might not be the best place to go if you have a fear of clowns, but with its positive reviews, maybe a stay at the Clown Motel would be less Stephen King and more fun day at the circus? Perhaps it would even make one feel sympathetic to clowns, and the near-constant stereotype that they're all terrifying! Anything is possible!