There's A Fake Craigslist Ad Looking For A Lawyer That *Actually* Wants To Work For Trump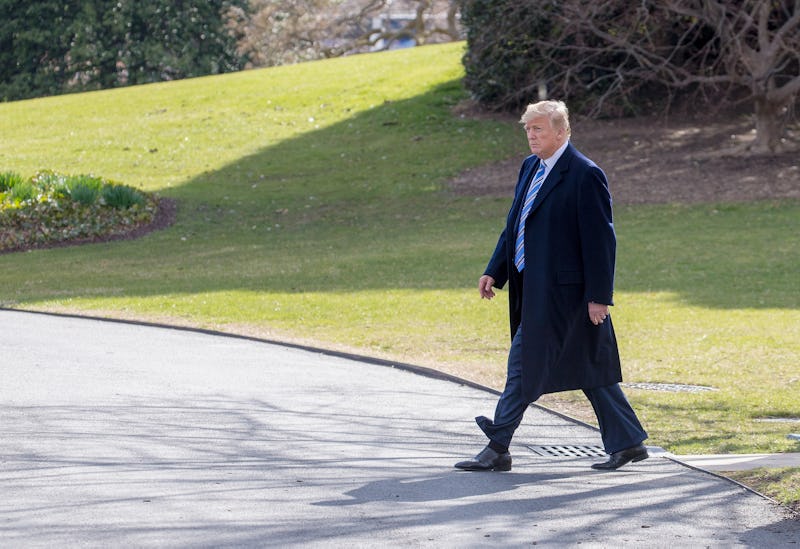 Tasos Katopodis/Getty Images News/Getty Images
On Tuesday, somebody trolled President Trump with a Craigslist ad that purportedly seeks legal representation for a "client involved in an ongoing Federal investigation" who is "very forceful and opinionated about his defense and is his own best counsel." The listing names 1600 Pennsylvania Ave. as the address of the client in question, referencing the reports that Trump has had a hard time finding lawyers willing to work for him. Bustle has reached out to the White House for comment.
The person of contact is listed as "General John," which some taken to be a reference to White House Chief of Staff John Kelly. The ad was first spotted by Huffington Post reporter Igor Bobic, and its creator later told Mashable that they "just thought it would be funny to see an ad for Trump's attorney the same place you'd go looking for a used futon or (until recently) a stranger for BDSM role-playing."
The listing, titled "SEEKING LEAD ATTORNEY FOR DIFFICULT CLIENT," begins:
Seeking a lead attorney to represent client involved in an ongoing Federal investigation. Must be familiar with laws and procedures around discovery, executive privilege, international financing of licensed real estate, election law and the Logan Act. Working knowledge of social media, especially Twitter is a plus, as is a better than average knowledge of the adult film industry and a collection of Playboy magazines from 1985-2010. Must look the part - Gregory Peck or Tommy Lee Jones type. Prior appearances on Fox News a huge plus.
The "must look the part" bit is a reference to old reports, later confirmed by the White House, that Trump chooses appointees in part based on how they look.
The satirical ad continues:
Must be prepared to work with a client who is very forceful and opinionated about his defense and is his own best counsel.
Basically your job boils down to keeping him from testifying under oath and hoping the rest comes out in the wash.
Ask about our other openings on our staff and submit your resume to be considered for potential openings in the near future. Perhaps the very near future. Like, hit refresh on your browser now. Now again.
That last section, of course, is a thinly-veiled swipe at the Trump White House's astonishing turnover rate. In 2018 alone, Secretary of State Rex Tillerson, chief economic adviser Gary Cohn, National Security Adviser H.R. McMaster, White House Communications Director Hope Hicks, deputy FBI Director Andrew McCabe, Office of Public Liaison Communications Director Omarosa Manigault and staff secretary Rob Porter have all either resigned or been fired.
Additionally, and more relevantly, Trump's top personal lawyer John Dowd resigned on Thursday. According to the New York Times, Dowd and the president split over the question of whether Trump should sit down for an interview with special prosecutor Robert Mueller. Dowd reportedly believed that such an interview would be too risky, but Trump has said that he'd "love to" be questioned by Mueller.
Moreover, there have been several other reports of Trump struggling to find lawyers who want to represent him. The Washington Post reported that Ted Olsen, who served as solicitor general under George W. Bush and is one of the most high-profile Republican lawyers in the country, rejected Trump's request to retain him as counsel.
On Wednesday, the Daily Beast reported that two other power lawyers, Dan Webb and Tom Buchanan, also turned down overtures to join the president's legal team. According to The Hill, four law firms have declined to represent Trump as well. On Sunday, Trump tweeted, "Many lawyers and top law firms want to represent me in the Russia case...don't believe the Fake News narrative that it is hard to find a lawyer who wants to take this on."
Though the president has insisted otherwise, the Craigslist ad points to the struggle that Trump has had with hiring lawyers. Though unnamed, the "client is a hugely wealthy man," according to the ad.
"Hugely successful," it reads. "Everyone says it."